Boss Terry Brown hails AFC Wimbledon 'fan power'
Last updated on .From the section Football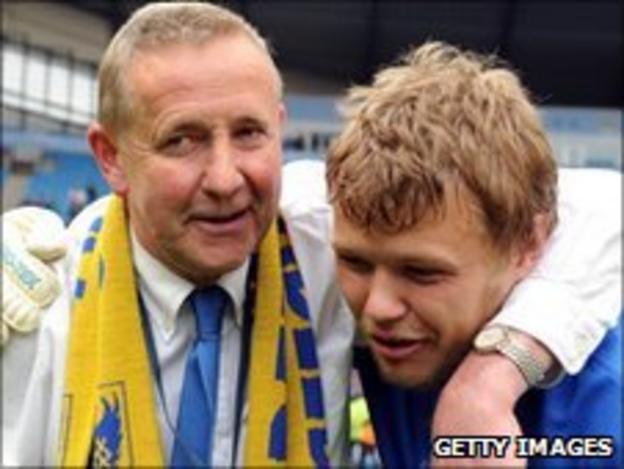 AFC Wimbledon manager Terry Brown insisted "fan power" was behind the club's rise into the Football League within nine years of being formed.
Brown said: "It's a phenomenal achievement to do it in nine years.
"A club could possibly do it quicker with finance - but we have had no finance, just fan power."
He added: "I can't make any decisions without going through the directors and the Trust.
"They keep driving this club, which has always punched above its weight.
"We have never tried to emulate the Crazy Gang, but there is such a driving force at the club. I am lucky to be manager of AFC Wimbledon."
Brown, who has been in charge for three years, had experienced three previous play-off campaigns as a manager, winning one and losing two on penalties.
But, after coming out on the right end of a shoot-out, he admitted it had been his lucky day.
"I just feel relieved, but at the same time tinged with sorrow for Gary [Brabin, Luton boss] because nobody deserved to lose like that," he said. "It stinks.
"It was a game between two good sides who gave their all, but there had to be a winner and I am the lucky manager.
"When, in the 89th minute, their lad (Jason Walker) got up, headed against the inside of the post and it came out, I thought it was going to be my day.
"We had the luck, but we had to work hard for that luck."
Brown said his side had practised penalties for six weeks after defeat by champions Crawley all-but ended their automatic promotions hopes.
And he said his players, including goalkeeper Seb Brown, who saved two penalties to help the club he supported as a boy win the shoot-out, would benefit from the experience.
"The nucleus of my squad is there for next season, and you can't buy the experience they have had in an atmosphere like that," he added.
"Hopefully we can do pretty well next season and hold our own, as other teams who have gone up before us have done."
Keeper Brown, 21, said: "When you look back at where this club has come from, it has been a miraculous rise.
"When the club started the fans were basically watching pub players running around but they still idolised them like pros.
"This is a great club to be at and everything is going the right way.
"The fans were singing about it taking nine years to get into the Football League, which is a credit to everyone involved.
"Hopefully it will take 10 years to get to League One, but it's going to be a tough division and a lot of hard work, but this club is looking forward."
Luton manager Brabin said his side, who lost to York in the play-off semi-finals last season, were left heartbroken by the result, meaning they face a third season outside the Football League.
"It's a horrible feeling," he said. "I can't put how I'm feeling into words. We haven't achieved our goal, which was promotion.
"There were a few tears in the dressing room because we felt it was going to be our day.
"There was a lot of belief leading up to the game and now for the next 24 hours we have to absorb the disappointment and then get back to work.
"I really thought it was going to be the year for Luton to turn it around and start moving in a positive direction again.
"I am gutted for myself, but more so for the players, the people behind the scenes and the supporters."