Hearts consider stadium options
Last updated on .From the section Football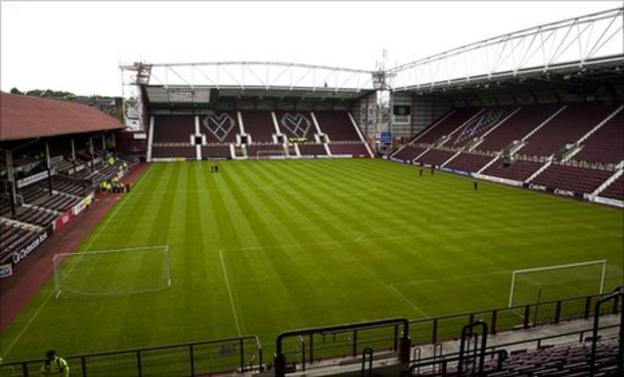 Hearts are in talks with Edinburgh City Council over the possibility of moving from Tynecastle to a new stadium.
The club will also continue to research the feasibility of redeveloping their ground in Gorgie.
However, it is understood that the cost of such work may be prohibitive and a switch from their home of 125 years offers better value for money.
Supporters have been asked to express their views via a questionnaire on the club's website.
Consultants have been commissioned to investigate all options open to Hearts and the club say findings from their report will be submitted to the council's economic development committee.
Hearts estimate that the cost of redeveloping the main stand to increase the capacity by 1700 to around 19,000 would cost around £20m.
And it is thought that a new 30,000-seater stadium on the west side of the city could be constructed for around £30m.
When Vladimir Romanov took over as majority shareholder at Hearts six years ago the club had already agreed to sell Tynecastle to Cala Homes for a figure in excess of £20m.
That deal was called off by the Lithuanian-based bank owner, who said his preferred option was to redevelop the stadium.
When first announced in 2007, the ambitious £51m proposals included a hotel and leisure facilities.
But plans have been repeatedly scaled down due to planning difficulties and cost issues.
Last year, Hearts said they were "open-minded" about the possibility of a groundshare deal with Edinburgh Rugby at a new stadium.