Ryan Giggs profile
Last updated on .From the section Football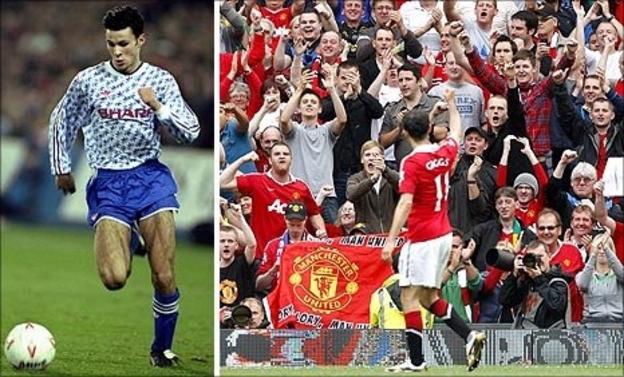 Ryan Giggs is the most successful British footballer of his generation. Over the course of a 20-year career representing Manchester United and Wales, he has carved out a reputation as one of the world's greatest players.
BBC Sport charts the story of a man who has gone from dominating the back pages because of his exploits on the field, to making headlines on the front because of allegations about his private life.
CHILDHOOD
Despite the soft Mancunian accent, Giggs - who was born in Cardiff on 29 November 1973 - is a fiercely proud Welshman. He grew up in the Welsh capital until the age of seven, when his family moved to Salford after his father signed to play rugby league.
When Wilson split with his wife, Lynne, Giggs quickly changed his surname to his beloved mother's maiden name. Ryan Joseph Wilson was no more.
That upheaval was compounded by racist taunts in the playground as he tried to settle in a new school - with a black father and white mother, Giggs is mixed race.
"I wouldn't wish the abuse on anyone," Giggs has said. "I was a quiet, shy person and sport offered somewhere to escape - and something to look forward to."
RAW TALENT
Think of Giggs and one immediately thinks of the red of Manchester United, with whom he is inextricably entwined.
But, as a young teenager, he wore the sky blue of Manchester City's youth teams after his rich potential was spotted by Dennis Schofield, a scout for United's cross-city rivals who also ran the Sunday side Giggs played for, Dean's Youth FC.
Inexplicably, City failed to secure his long-term services and that allowed Sir Alex Ferguson to pounce, signing Giggs to apprenticeship forms on the player's 14th birthday.
"He was 13 and just floated over the ground like a cocker spaniel chasing a piece of silver paper in the wind," Ferguson said of a player he has had an almost father-son relationship with.
"The boss brought Ryan through from a troubled childhood and always saw him as one of his own," old team-mate Paul Parker said in 2003.
PROFESSIONAL BREAKTHROUGH
With United pining for a new star to be born, and Ferguson a keen advocate of promoting promising young players - just as Matt Busby had done so famously with his 'Babes' in the 1950s - Giggs was catapulted into the first team at the age of 17.
Despite the expectation heaped on a player some were calling 'the new George Best', Giggs was not fazed. A mature youngster who paved the way for many other youth players to break through - the so-called 'Fergie's Fledglings' generation - the left winger gradually displaced Lee Sharpe.
He soon collected his first piece of silverware as United beat Nottingham Forest in the 1992 League Cup Final, with Giggs setting up Brian McClair to score the only goal of the game.
Soon after - at the end of his first full season - Giggs was voted Young Player of the Year by his fellow professionals. Many of them had been terrorised by a player who Ferguson said left opponents with 'twisted blood', because of his super-fast dribbling ability.
Two years earlier, in his first season on professional terms, Giggs had been earning £120 a week.
EARLY MEDIA LIMELIGHT
Not only was Giggs now a feted footballer, he rapidly became a pin-up, with the wider media were desperate to put his face on their front cover.
But Ferguson, recognising the potentially detrimental effect at a time when celebrity magazines were not nearly as ubiquitous as they are now, shielded him from the attention and interviews were rarely - if ever - granted.
Additionally, unlike David Beckham a few years later, Giggs did not court the attention - and soon shunned it.
"I'd go to book signings and there would be roads blocked and traffic jams," he said. "I was a lad growing up in public. It was a culture shock.
"[But] I rapidly realised it was something I didn't really like, so I made a conscious effort to settle down and keep a lower profile."
The only indiscretion to Giggs's name was attending a house party with a team-mate when they should have been resting for a big match, prompting a livid Ferguson to pay them a shock visit and haul them away from the revelry.
INTERNATIONAL CAREER
As with some of the other contradictions of Giggs's early life, the proud Welshman captained England at schoolboy level - even striding out to play at Wembley Stadium against Germany in 1989.
But that was, in Giggs's eyes, a mere blip, explained away by the fact that he could not represent Wales at schoolboy level as he was no longer at school in Cardiff.
His was the first name on the team-sheet for the full Wales national team from his debut in 1991 through to his international retirement in 2007. Yet, for all of his 64 appearances and 12 goals, Giggs was ultimately left disappointed by the failure of Wales to qualify for a major tournament.
That Giggs - like Northern Irishman George Best before him - never played in a World Cup or European Championship, is considered a crying shame by football observers. Had he done so, Giggs's fame and respect around the globe could have been even greater.
UNPRECEDENTED SUCCESS
Having lifted Premier League and FA Cup trophies, Giggs's career peaked in 1999 when Manchester United won both in the same season - and then added the European Champions League.
His headline contribution to that famous Treble was an unforgettable winning goal against Arsenal in an FA Cup semi-final replay - an effort which encapsulated his ability to glide past players to devastating effect.
The goal, considered to be one of the greatest of all time, spurred United on to their unprecedented success at a point when their season looked to be collapsing.
Some players joked that they needed to rest for a season, or even retire, to take in the enormity of what they had done.
But Giggs, who was made an OBE, carried on regardless, his mantra being that once a trophy is won the moment is soon forgotten, and all that remains is to focus on working hard to collect more silverware.
INDIAN SUMMER
Giggs has endured infrequent dips in form during his career, and occasionally been kept out of the team, but that is the norm for almost any footballer.
However, with his slender physique little different to that of his teenage self thanks to a healthy metabolism and the beneficial effects of yoga, he has defied the critics by still collecting trophies well into his 30s, and his phenomenal skills have become increasingly recognised in recent years.
The British public recognised his rare gifts - and acknowledged a sportsmen considered to be one of the most humble - when he was voted the BBC Sports Personality of the Year in 2009, months after winning his first Professional Footballers' Association Player of the Year award.
"This is a shock as you can tell by the speech I've prepared," joked Giggs when collecting his BBC award.
"It's unusual for a 36-year-old to be playing with a team like Manchester United for 20 years. But I am enjoying it and long may it continue."
Having overtaken Sir Bobby Charlton as United's record competitive appearances holder, occasional captain Giggs is also the most decorated player in English football history with 12 Premier League winner's medals, four FA Cup winner's medals, three League Cup winner's medals and two Champions League winner's medals.
"Never in his wildest dreams could he have imagined the amount of games he's played, and the amount of medals he's got," said his mother Lynne.
Giggs - who faces Barcelona in the Uefa Champions League final at Wembley on Saturday - also holds the longest run of successive scoring seasons in Champions League history, a glowing testament to his longevity and drive.
PERSONAL LIFE
Giggs married his long-term partner, Stacey Cooke, in a low-key private ceremony in 2007. They have two children, both born in Salford, called Liberty and Zach.
Unlike other footballers who have sold their weddings to celebrity gossip magazines for millions, Giggs does not agree with such lucrative deals.
"We earn more than enough money from football and sponsorship, so who needs still more?" he told the Daily Mail three years ago.
Loved by the Manchester United faithful across the world and respected by his peers, Giggs had been leading a quiet existence many saw as refreshing in the brash world of modern football.
That was the case, but no more. He has finally been enveloped by the storm surrounding his private life and drawn into a debate with wider importance. A man happy to be viewed purely as a footballer now has to get used to making the headlines for a different reason.