David Beckham hails Man Utd's title-winning team
Last updated on .From the section Football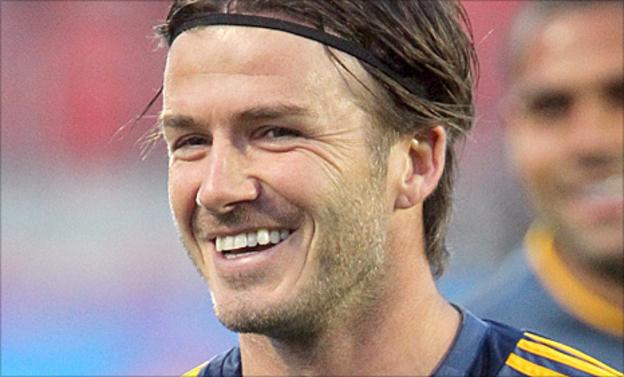 David Beckham says Manchester United's Premier League-winning side of 2011 is one of the club's best of all time.
Manager Sir Alex Ferguson could clinch his third domestic and European Cup double when United play Barcelona in the Champions League final on Saturday.
Ex-United midfielder Beckham told BBC Radio 5 live: "They are up there with the best United sides of all time; the proof is in the trophies they have won.
"People have criticised the team but you can't ask for more than that."
United signed off their domestic campaign with a 4-2 victory against relegated Blackpool, preserving a season-long unbeaten record at Old Trafford.
Ferguson dismissed critics who claimed his team are not as talented as their league-winning predecessors as "talking nonsense", lauding his current team's indefatigable spirit as they finished nine points ahead of nearest rivals Chelsea.
Los Angeles Galaxy star Beckham, who won six Premier League titles during his career at Old Trafford, believes the current squad can build on that success under Ferguson.
"They have won the league again and they're in the Champions League final," said the 36-year-old former England captain.
"They have that togetherness that every United side has had under Sir Alex Ferguson and they will continue to have that."
Beckham will return to Old Trafford to make a special one-off appearance in a Manchester United shirt for Gary Neville's testimonial match against Juventus on Tuesday.
Although the game is only four days before United's showdown against Barcelona at Wembley, Ferguson is likely to field a number of first-team stars as a tribute to Neville, who retired from football in February after 602 appearances for the club.
And Beckham backed his former boss to outwit the Spanish champions, who have earned worldwide plaudits as one of the greatest teams in football history.
"He [Ferguson] can't get any better than what he is - he has proved year after year, team after team, player after player what an amazing manager he is," added Beckham.
"To change the players around like he does over the years and still be a success is unbelievable.
"Everyone is talking about Barcelona as one of the best club sides in the world - and of course they are - but if anyone can beat Barcelona at their peak, then Sir Alex Ferguson knows how to do that. I hope they go and do that.".
Beckham made his Manchester United debut in 1992 after starring in the youth team alongside Neville, Ryan Giggs, Paul Scholes and Nicky Butt and all five broke into the senior team simultaneously as they earned the moniker Fergie's Fledglings in comparison with the Busby Babes of the 1950s.
And Beckham said the success of his generation was entirely down to Ferguson's confidence and faith in the ability of his players.
"We wouldn't have won what we have won if the manager hadn't given us an opportunity to play at a young age, even when everyone criticised him for it," stated Beckham.
"We know and he knows how much we owe him."
Although Ferguson has reiterated he has no intention of retiring for the foreseeable future, Beckham suggested one of his former team-mates would make the ideal successor for the 69-year-old.
"I would love to see that, one of the players that had success at the club to go into management," he commented.
"A Ryan Giggs, Phil or Gary Neville, they have all got manager material, they've all got the experience of playing at a big club, knowing what Manchester United means to the people. I'm sure the fans would absolutely love that."