Johnston voices concerns for Rangers' future
By Alasdair Lamont & Kenny Macintyre
BBC Scotland
Last updated on .From the section Football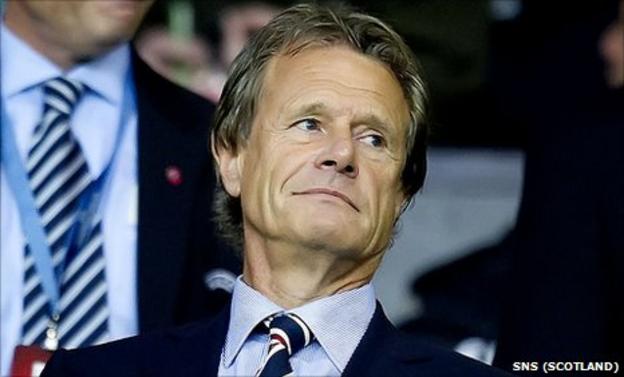 Sacked Rangers chairman Alastair Johnston has urged Rangers fans to "remain vigilant and continue to exert pressure" on new owner Craig Whyte.
Johnston and director Paul Murray have been removed from the Ibrox board, having refused to resign their posts.
Chief executive Martin Bain and finance director Donald McIntyre have been suspended pending an internal inquiry.
On Whyte's plans for Rangers, Johnston said: "He needs to walk the walk and not just talk the talk."
Johnston, who had expressed doubts during Whyte's protracted takeover of Sir David Murray's majority shareholding, had indicated previously that he would step down at the end of the season.
That was later delayed with the agreement of Whyte, pending the disclosure of more details about the buyout to shareholders, information that is due on or before 6 June.
New appointments to the Ibrox board are likely to be made within the next two or three weeks.
However, it is understood John McClelland and John Greig will not be asked to resign their positions.
Speaking to BBC Radio Scotland, Johnston added: "I'm not going to make any comment with respect to the current circumstances at the current time, except that I will say - as a lifelong Rangers fan and a real one - that the 26,000 other shareholders in Rangers, as well as the hundreds of thousands of other supporters need to remain vigilant and continue to exert pressure on Mr Whyte to support the club financially as he has publicly committed to do.
"As far as I'm concerned, the next time we see a photograph of him holding up the SPL trophy, let us all hope - especially me - that he has earned the right to do it.
"The directors all had an independent view on evaluating all the evidence and circumstances that we were privy to - and everyone came to their own decisions. So, I'm not going to second-guess or speak for anyone else.
"I think the biggest force for change at Rangers is for Mr Whyte to appreciate that there are thousands of fans who are going to police his activities. Not what he says, but what he does.
"I was scheduled to step down on the 15 May, right after the last game of the season, but I agreed with Mr Whyte that I would stay on for a couple more weeks to oversee the circular that he's obliged to submit to all of the other minority shareholders in terms of what he is going to commit to the club in financial terms.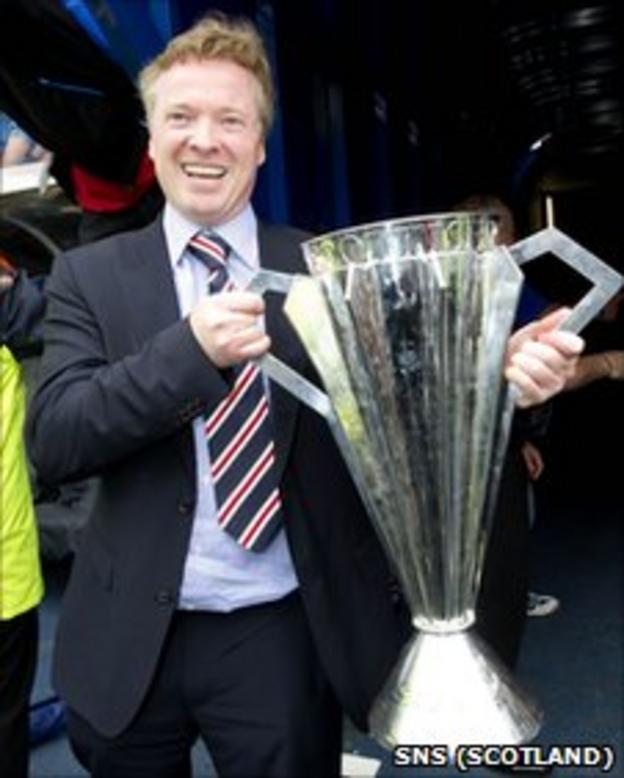 "Of the position of Liberty Capital, his own personal holding company that purportedly holds the purse strings to the financial commitment he is making in the club, and that was the way we left it last week.
"So, the bottom line is, I had already thought by this time I would have been off the board or stepped down.
"I said two years ago when I took the assignment that it was never a job - it was one I volunteered for. As chairman, my mission was to shepherd the club from the David Murray era to the era of a new owner.
"I still have a full-time job with IMG, but it was a commitment I made as a Rangers fan and as someone who could immodestly could help the club for the foreseeable future. There was never any intention for me to stay on once a new owner came on board."
Outgoing director Murray led a late bid to rival Whyte's successful takeover.
A spokesman for Whyte said: "Craig has no comment to make on what is an internal matter for Rangers."
Meanwhile, a statement to the stock exchange read: "The board announces that Cairn Financial Advisers LLP has been appointed PLUS corporate adviser to the company with immediate effect."