Will Hoskins rues Paul Trollope Bristol Rovers exit
Last updated on .From the section Football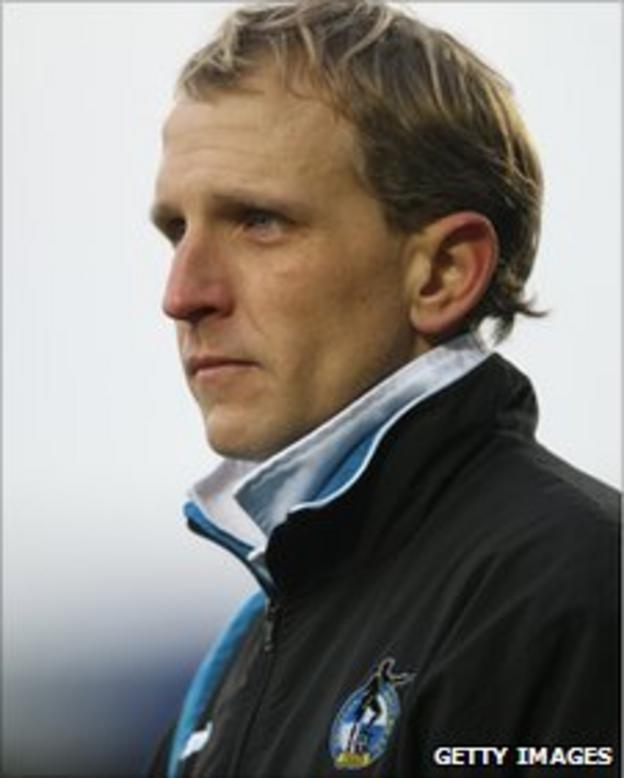 Ex-Bristol Rovers striker Will Hoskins says former boss Paul Trollope was not given enough time to improve results.
Trollope was sacked in December with Rovers in the bottom four and they failed to stave off relegation from League One at the end of this season.
When asked if the decision was made too soon, Hoskins said: "Looking at where he had taken Rovers, maybe it was but that's not my decision.
"Maybe if he had stayed things might have been different."
He told BBC Radio Bristol: "It was a tough one, I came at the start with Paul who I regarded as a great manager and a great coach and that's the main reason I signed for the club in the first place.
"Things didn't go well at the start and results went against us and obviously when that happens it's the manager who takes the fall."
Hoskins added: "It happened and we have to get on with it."
The 25-year-old was brought to the Memorial Stadium by Trollope from Watford in July 2010 on a two-year deal, and he went on to become Rovers' top-scorer with 20 goals in 47 games.
But his goal count was not enough to save Rovers from the drop, and Hoskins was snapped up by League One champions Brighton & Hove Albion last week on a two-year deal.
"They won the league easily," said Hoskins. "They're a club that are going places and as soon as I knew the interest was there I was keen to be a part of it.
"But the [Rovers] lads are great, I'll have some good memories from the club."
Rovers have yet to appoint a permanent successor to Dave Penney, who replaced Trollope but was sacked in March after less than two months in the role.
Midfielder Stuart Campbell was put in caretaker charge for the remainder of the season but has been ruled out of the permanent position.
Hoskins believes his former side must make immediate changes in order to climb their way back up the Football League.
"They need to change because teams can go down, and go down again, so things need to be put right," he said.
"It needs to be a fresh outlook, a new manager, new players - just a fresh start for the whole club and something that's going to give the fans what they deserve."