Nigel Worthington laments NI defending in Dublin rout
Last updated on .From the section Football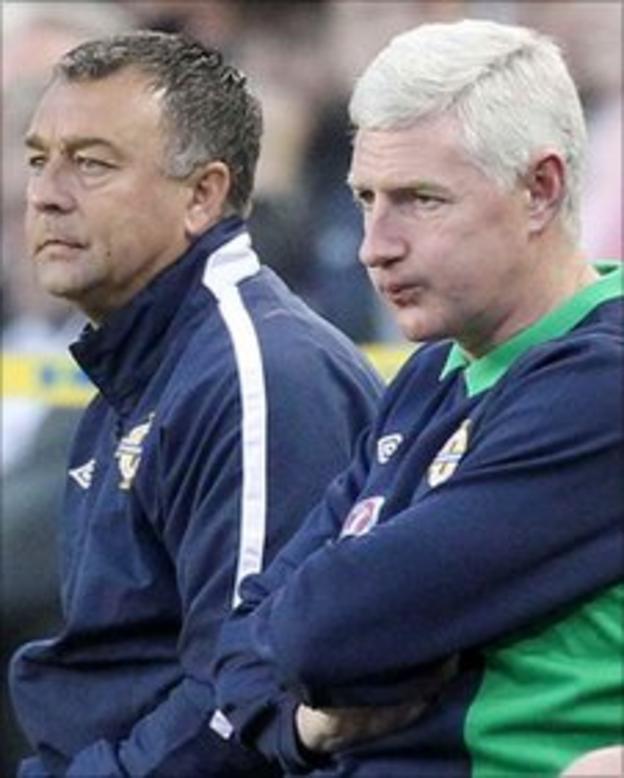 Northern Ireland boss Nigel Worthington said that the Republic of Ireland had punished his team's mistakes in Tuesday's 5-0 Nations Cup rout.
"Four of the goals came down to ourselves," said Worthington after the Aviva Stadium game.
"They were basic individual errors and the Republic took full advantage.
"But I'm always looking to try and take the positives out of it and I thought young Josh Carson had a splendid debut and is really one for the future."
Given his understrength squad, Worthington said that he went into the game knowing that his side would be in for a tough evening.
The Northern Ireland manager added that he had "no qualms" with Adam Thompson's second-half sending-off although the general consensus suggested that it had been a harsh decision by Scottish referee Craig Thompson.
"The young man has gone for an honest challenge and he's (Robbie Keane) gone down. You live with that. It's a learning experience.
"There were a lot of youngsters out there. There's the good and bad in the game.
"The young players have got to take and learn a lot from tonight."
Lee Hodson was at fault for the Republic's second goal with a under-hit backpass latched on to by Keane but Worthington praised the Watford youngster's response to the mistake.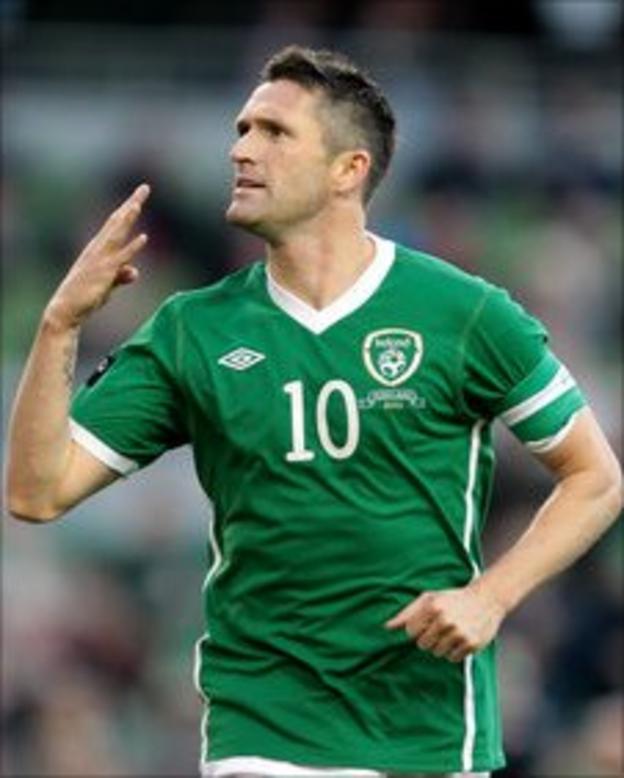 "Good players get over that and deal with it and I thought he was excellent in the second half."
Worthington insisted that he and his players would regroup for Friday's Nations Cup clash against Wales, again at the Aviva Stadium.
"It's nice that we've got the group together for a week.
"We've got another relatively big game on Friday night and I said to the players 'get a smile on your faces, dust yourselves down and get ready to go again'."
Republic striker Robbie Keane admitted he had been "desperate" to stay on and go for his hat-trick before being substituted in Tuesday's clash.
The Tottenham striker moved within two goals of an international half-century as he notched goals in either half during the romp.
"It's a friendly game but when you're playing against your rivals there is no such thing, it's always important to get a good win and we did that convincingly," said Keane.
"I wanted to stay on. I think I need one more to equal the English record (held by Sir Bobby Charlton), so I was desperate to stay on, but never mind.
"Luckily Cox (Simon Cox) stayed on because he scored a goal and it was a great debut for him, we're all delighted for him."
Keane's fellow goalscorer Stephen Ward said he had "enjoyed every minute" of his international debut.
The Republic's pre-match build-up had been dominated by the absence of Anthony Stokes and James McCarthy from the squad and manager Giovanni Trapattoni revealed after the game that Marc Wilson and Jonathan Walters had also failed to report to Dublin.
"We will have to decide why we call them up next time. This is their federation, the FAI. McCarthy, Wilson and Walters didn't come, they didn't bother answering," said Trapattoni.
"We have been watching these players over one month, two months.
"If they are injured that is okay but they must come to us and see our doctor. It is about respect. It shouldn't happen anywhere, not just Ireland."