Barry Town Football Club is put up for sale
Last updated on .From the section Football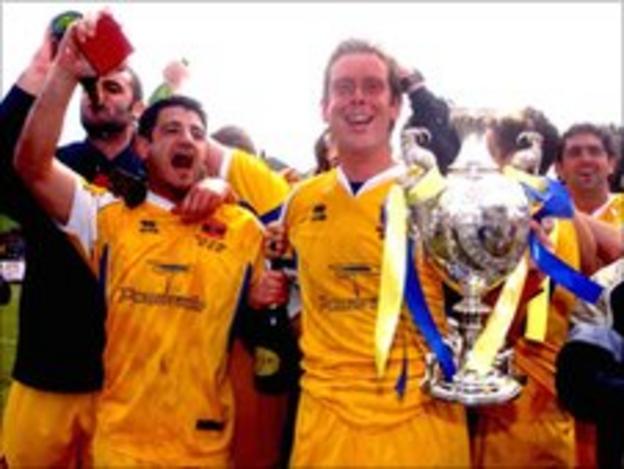 Barry Town Football Club has been put up for sale by chairman Stuart Lovering for an initial payment of £125,000.
Any buyer would then have to pay further instalments of £2,000 per month over the next three years.
A statement on the club website said that without a sale the first team would not "continue playing in the [MacWhirter] Welsh League".
Former League of Wales champions Barry have struggled since 2003 after going into administration with £1m of debts.
In December, 2003, Lovering put forward an offer of £130,000 in place of full payment of Barry's debts and took control of the club.
But the turmoil off the pitch meant the club was forced to get rid of a championship-winning squad and management team, which resulted in the team being relegated from the League of Wales at the end of the season to Welsh League Division One.
Barry had won the league, now known as the Welsh Premier League, seven times since its inception in 1992 and were the first side from Wales' top division to go fully professional.
They created history in 1996/7 as the first club from Wales's national league to progress beyond the opening round of a European competition, with Uefa Cup victories over FC Dinaburg and Budapest Vasutas.
The Dragons also beat Azerbaijan champions FC Shamkir home and away in the 2000/01 season before meeting Portuguese giants FC Porto in the Champions League second round.
Although Barry were trounced 8-0 away, they restored pride by winning the home leg 3-1 at their Jenner Park home.
But after those glory years followed the financial problems and relegation, and Barry were forced to quit Jenner Park in 2005, where they had been tenants since 1912.
A district valuer recommended that the cash-strapped club pay ground owners Vale of Glamorgan Council £42,000 per annum rent.
Unable to pay that sum, Barry were forced to play home games at Treforest, near Pontypridd, after being locked out.
Lovering put Barry Town up for sale in 2005 and again in 2008. A sale was thought to be close in 2010, but he has ultimately been unable to offload the club.
A Supporters Club-backed fund-raising initiative was launched in 2008 that helped alleviate some of the financial pressures.
Barry Town eventually returned to Jenner Park at the start of the 2006/07 season when a new ground deal was thrashed out, but were relegated to Welsh League Division Two that term.
The Dragons earned promotion back to Division One the following year, but this season finished 13th in the division - just outside the relegation places.
Barry have continued to invest in youth development, though, and the statement on their website said that even if no buyer is found then "the club will continue to operate children and youth teams, as well as adult teams - but at a lower league level".
The club also need to to find a new manager for next season as Leon Dennis has resigned.