Champions League: Van der Sar targets last hurrah
By Phil McNulty
Chief football writer
Last updated on .From the section Football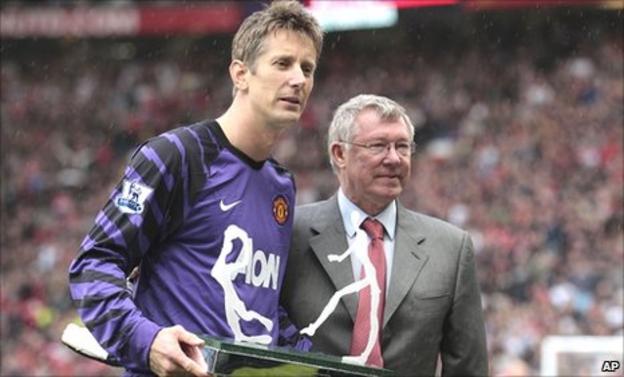 Edwin van der Sar wants to bring his vast experience to bear one last time to ensure his career ends in glory with Manchester United beating Barcelona in the Champions League final at Wembley.
The 40-year-old keeper retires after Saturday's final in a tournament that has brought him the highs of victory with Ajax and United - and also the lows of defeat with both clubs.
Now Van der Sar hopes Sir Alex Ferguson's Premier League champions can provide a fitting finale by exacting revenge on Barcelona after their 2-0 defeat in Rome two years ago.
Van der Sar, whose save from Chelsea's Nicolas Anelka in Moscow in 2008 secured the trophy for the third time for United, knows the contrasting emotions that might face him when brings the curtain down on silver-laden career.
He said: "If you win you don't want to go home and if you lose you don't want to leave your house, but we have prepared well for these last two weeks and hopefully that can help us."
Van der Sar was a Champions League winner with Ajax when they beat AC Milan in Vienna in 1995 but was on the losing side when they lost on penalties to Juventus in Rome's Stadio Olimpico a year later - also the scene of United's misery when they were outclassed by Saturday's opponents in 2009.
And the fact that this is the last time he will play on the club game's biggest stage has no influence on his approach or hopes for Saturday. He said: "It doesn't matter whether it is your first game or your last game, you want to win.
"It is a big game for everyone involved with this club, not just me and the main thing is to get the win, not that it is my last game."
Ferguson and United have benefited from Van der Sar's quality since he arrived from Fulham in a bargain £2m deal in June 2005 - describing him as "this big lump of a man" when paying tribute to him on the pitch at Old Trafford before Sunday's final Premier League game against Blackpool.
Van der Sar said: "You hope to bring your 'A Game' to any game, and of course you do in a final. You hope to bring experience, fitness, communication skills, motivational skills. You try and bring everything to make sure you defend well at the back."
And United's feat in clinching a record 19th domestic title a game early is also regarded as an advantage in their preparations to face Barcelona.
"We have had two weeks to prepare," said Van der Sar. "We won the league at Blackburn so we got a little bit more time to prepare certain things."
Van der Sar's contribution has also been appreciated by his United team-mates, with captain Nemanja Vidic saying: "It is a great way to finish your career, to play in a Champions League final at Wembley.
"To play at this level until you are almost 41 to maintain these standards, winning the title and reaching the Champions League final again, is exceptional and Edwin is an exceptional man.
"To leave right at the top and with the respect of everyone from the fans to the players is a dream for every player and Edwin deserves that."