Champions League: Lawrenson on Man Utd's key trio

By Mark Lawrenson
BBC Sport football expert
Last updated on .From the section Football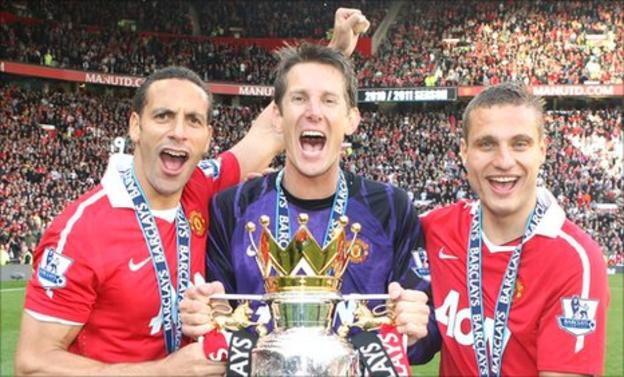 Manchester United's players will look each other in the eyes before they go out and face Barcelona in the Champions League final at Wembley on Saturday - and the simple presence of captain Nemanja Vidic, Rio Ferdinand and goalkeeper Edwin van der Sar will give them belief they can win.
When you play these huge games you gaze around the dressing room at your team-mates to gauge the character and abilities of those who will be going into battle with you, and the quality brought by that trio will lift the spirits of the other Manchester United players.
They bring excellence and experience on the field plus the wisdom and know-how gleaned from playing in games of this magnitude, and United will require that against Barcelona in a game I genuinely think the Premier League champions can win.
The sheer force of personality of centre-backs Vidic and Ferdinand and goalkeeper Van der Sar will be crucial at Wembley. Other players will take comfort from the fact they know they can rely on them in the tough moments, of which there might be plenty against Barcelona.
Their presence will provide a psychological lift, it will make their colleagues think 'we've got a chance here'.
This triumvirate have the elements in their make-up, both as players and people, that are essential to achieve success in a Champions League final. Van der Sar is vocal, an organiser and there is clearly great trust between him and his defenders . There has to be.
Vidic and Ferdinand are both what I would call pessimistic defenders, which I think you have to be at the highest level. They both think their partner might miss the ball or not get there so they are automatically in the best possible position to deal with difficulties and they do it naturally.
If Ferdinand thinks Vidic is going to miss he is there and vice-versa. This is why they are up there with the world's best as a central defensive pairing. It is a natural understanding that the great partnerships have and it has been in evidence for years with Ferdinand and Vidic.
Ferdinand is extremely comfortable on the ball, as is Vidic. Vidic also has the power and capacity to dominate physically, aerially and on the ground.
Between the three of them there is very little panic. They are hugely experienced, they have made their mistakes in the past and know how to deal with that and recover from them.
You can't have 'scatty' defenders. They just don't work. If you have a central defender who is this type and his team-mates don't know what he is going to do next, it is a recipe for trouble.
It would certainly lead to trouble against a side of Barcelona's abilities. I think because of the way Barcelona are in midfield, Vidic and Ferdinand are going to have to push up a little bit, almost into midfield.
The only way you can stop Barcelona is to deny them any space and time on the ball. It's difficult but if you pack that area you give yourselves a far better chance of stopping the supply to players like Lionel Messi and David Villa that makes Pep Guardiola's side such a potent force.
If Barcelona do get in behind United, both Vidic and Ferdinand have the pace to recover and full-back Patrice Evra is lightning quick as well. You have got to truncate midfield and play as a unit, even pulling the full-backs in with you.
I really believe United can win this game. I don't see many teams in the competition who would be as confident as Manchester United are of beating Barcelona in a one-off game. It suits them that it is a one-off because you would have to think Barcelona would hit top form at some point in a two-legged affair.
Wembley will be like a home game for United and history will also play its part in the build-up - remember it was the scene of that very emotional European Cup win for United under Sir Matt Busby in 1968. You can be sure United's fans will get their hands on tickets to vastly outnumber their Barcelona counterparts and they will be thinking 'it doesn't get much better than this'.
And you can also be sure manager Sir Alex Ferguson will pick a team with plenty of emphasis on attack, even though he will know he has to strike the right balance to stop Barcelona's brilliant attack. I always think when Ferguson has fudged it a bit in Europe, United's results have not been as good.
I have seen a lot of Barcelona this season and I honestly think they are not the same team if you go and get at them. The best way to play them is to have Andres Iniesta, Xavi and Sergio Busquets moving towards their goal rather than yours. Not an easy task but United can do it and with it bring a victory.