Real Madrid sack director general Jorge Valdano
Last updated on .From the section Football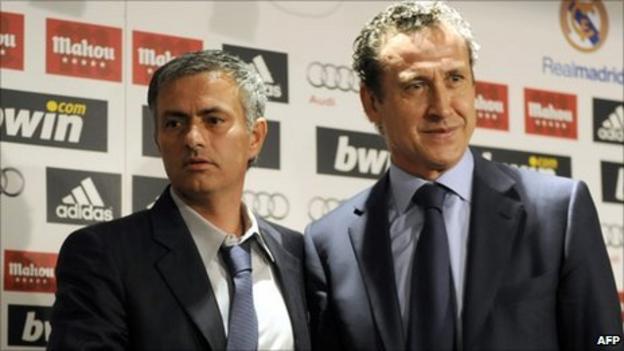 Real Madrid director general Jorge Valdano has been sacked after a board meeting at the Bernabeu stadium.
"We have decided to end the contractual relationship with Jorge Valdano," said Real president Florentino Perez.
Valdano's removal is part of a Real reorganisation that strengthens coach Jose Mourinho's position at the club.
The pair fell out after Valdano queried Mourinho's request for another striker as cover for the injured Gonzalo Higuain earlier in the season.
"The experience of this just completed season demonstrated a need for more autonomy, including within the coaching unit," said Perez.
"Mourinho demanded an autonomy on the sporting side like that which works with English clubs. I think for the sake of the institution that this is a reorganisation that has to be done.
"We signed the best coach in the world, so we want to be sure that even when he leaves one day and we sign another of the world's best, the structure is there."
At a later media conference, Valdano revealed that he and Mourinho had not spoken "for a long time".
"I am not the one who turned Real Madrid into a battlefield," said the Argentine. "All my efforts this season were directed toward restraint.
"It has been a long time since I have spoken personally to Mourinho. We greet each other politely, but he sought to deal with people other than me.
"My responsibilities with the first team were reduced. I did not feel comfortable in that situation."
Real won its first Copa del Rey trophy in 18 years in Mourinho's first season in charge after an 1-0 extra-time win over rivals Barcelona.
But Barca claimed a third successive La Liga title and also knocked Real out of the Champions League in the semi-finals.
"I believe Jose Mourinho staying on is good for a club that's been unstable in the past," added Valdano.
"It needs to settle for a reasonable period of time. He's done a good job, I believe he is a good coach and I find it normal that he stays on."
Valdano, who played with Diego Maradona in Argentina's 1986 World Cup-winning team, coached Madrid to the Spanish league title in 1995 and played for several seasons at the club.
The 55-year-old had two years on his current deal to run.