Champions League: Man Utd have learned from 2009 - Scholes
Last updated on .From the section Football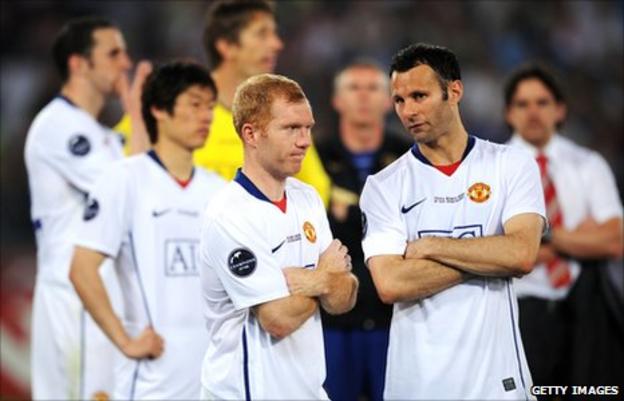 Paul Scholes has said Manchester United will not repeat the mistakes they made two years ago when they face Barcelona in Saturday's Champions League final.
The midfielder stated that United learned some painful lessons in the 2-0 defeat by Barca in the 2009 final, as the Catalan giants dominated the match.
"There is a determination to make sure that doesn't happen again," he said.
"It wasn't a nice night and the summer afterwards felt very long. This time we intend to at least give it a go."
Scholes came on in the dying moments of the 2009 final in Rome, but the game had already passed United by as goals by Samuel Eto'o and Lionel Messi confirmed Barca's superiority.
Barcelona are being talked up by some as the best club side in the history of the sport, and Scholes believes the clash between the champions of Spain and England will be a fitting climax to the season.
"There is no doubt the two best teams have made it to the final," the 36-year-old added.
"Barcelona are the ultimate. They are what we all look to and want to play like.
"But our football can be just as good as theirs at times. We have a lot of quality too.
"Both teams want to go forward and score goals, so I don't think anyone could ask for a bigger or a better final."
Much of the pre-match attention has fallen on Barcelona superstar Lionel Messi, the reigning Fifa World Player of the Year.
But Manchester United skipper Nemanja Vidic has cautioned his side against focusing too much on the 23-year-old Argentine at the expense of the other stellar attacking talents in Barca's line-up.
"Messi is a great player and is really hard to stop," Vidic commented.
"But I would not underestimate the other players they have like Xavi and Andres Iniesta, they're really good players who can produce good performances in the vital games.
"It is not just about one player. It's about stopping Barcelona as a team."
Barcelona winger Ibrahim Afellay also looked back to the 2009 final, and suggested that his side would face a better all-round side at Wembley than two years ago.
"They have more experience and they have new players, good players. It will be a great game," said the Netherlands international.
"In football, you never know. It's a one-off game."
The 25-year-old, who came on as a substitute in both legs of Barcelona's semi-final against Real Madrid, believes there are threats to the Catalan club from all over the pitch.
"When you play Manchester United, everyone is a good player," he said.
"You have players like Wayne Rooney, Ryan Giggs and the others."
The former PSV Eindhoven captain - who played down speculation linking him with a move to Liverpool - said that Barcelona's players will not be affected by the ash cloud that forced them to travel early to London.
Afellay explained: "As professionals, you have to focus on the game. Maybe it's good to go a couple of days beforehand so you are with the group."
Barcelona's former Liverpool midfielder Javier Mascherano conceded that victory against Manchester United would be sweeter because he had previously played for the Anfield club.
"Yes, it will be, for my past," stated the Argentina midfielder.
"Obviously it's a bit different for me because I know the feeling for Liverpool supporters at the moment. But now I play for Barca and want to win for me and this club."
For all the titles and trophies won by Barca in the course of a glorious few years for the club, Mascherano insists his team-mates are still hungry for more.
"It is really difficult to find, in football, people like this. I am talking about my team-mates," he said.
"I have team-mates who have won everything but they want to win again. You can see it in their faces."