Andrea Orlandi hopes for Andres Iniesta inspiration
By Peter Shuttleworth
BBC Sport Wales
Last updated on .From the section Football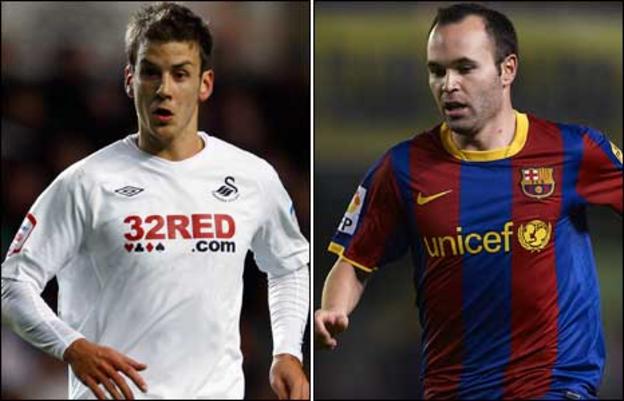 Andrea Orlandi hopes his friend Andres Iniesta can kick-start a memorable weekend Wembley double for the former Barcelona B team-mates.
World Cup winner Iniesta will be the Spanish champions' playmaking pivot, as Barca aim for a fourth European crown, against Manchester United under Wembley's arch on Saturday.
Orlandi then wants to toast a twin triumph in north-west London when Swansea face Reading in the Championship play-off final, shooting for the jackpot of Premier League promotion.
Orlandi and Iniesta were once midfield partners in Catalonia's under-15 side as well as team-mates in the Barca B team.
Now, after very different career paths, the friends will be at Wembley on the same Bank Holiday weekend, dreaming of glory.
"From the first moment I saw Iniesta as a young boy, I knew he would become the best midfielder in Spain," said Orlandi.
"We were the two midfielders in the Catalonia national team under-15s.
"As a youngster, he was absolutely unbelievable in possession, he would never lose the ball, he was quick, technically gifted, very strong mentally and a very nice guy - so had everything.
"I could give the ball to him when I was in trouble to give me a breather. He always had the responsibility because he was the best. It was great as there was no pressure because Andres was going to make it happen for us.
"But playing against him made you feel a really bad player, you could never get close to him. He has only improved."
Orlandi was back at home in Barcelona when he watched Iniesta score Spain's extra-time winner in their 2010 World Cup final triumph against the Netherlands.
Iniesta was not the only other former team-mate of Swansea's 26-year-old midfielder in Spain's World Cup-winning squad.
Orlandi enjoyed the best part of his football education with striker Pedro, midfielder Sergio Busquets and goalkeeper Victor Valdes in Barca's B team - and all three will be key if Barcelona are to repeat their Wembley European Cup heroics of 1992.
"I'm very proud of Pedro and Busquets as I could never say I could see them as top, top players," recalled Orlandi.
"They were good players but I didn't know if they were going to make it.
"Pedro was in the C team and was probably going to leave the club, as he couldn't get in to the B team. That is crazy if you see how he plays now but Pep Guardiola liked him and kept him.
"Pedro and Busquets have worked so hard and now I think, Wow! I'm quite amazed.
"Iniesta was the most gifted. It is great to say I played alongside him, it is a great honour for me.
"Iniesta is now getting the recognition he deserves because he has been amazing for years. And after winning the European Championship in 2008, the European Cup in 2009 and the World Cup last year, Iniesta and Xavi in the Barca midfield keep getting better.
"But these times, however memorable, are over, as I'm trying to do my own little story at Swansea."
Orlandi has decided against using his contacts for a Champions League final ticket, as he concentrates on winning a place in the Swansea team for Monday's play-off showdown.
While his old acquaintances have helped boyhood club Barcelona become arguably the best club side in the history of football, Orlandi has contributed to making Swansea the best footballing side in the Championship.
The Welsh club were in League One when Orlandi swapped Spain for south Wales in a free transfer in 2007 to join Roberto Martinez's Spanish revolution in Swansea.
Orlandi's philosophy of stylish football would have been wasted at most British clubs but Martinez, who subsequently left for Premier League Wigan, wanted to play the game the "proper way".
A League One title and two managers later, Orlandi and his Swans are one game from the Premier League, with Brendan Rodgers's version of the Swansea way.
Rodgers's coaching education has taken him to the Camp Nou on a watching brief, as the Swansea boss shares a continental "passing with penetration" footballing ethos.
"It is crazy that we have to justify the way we play," said Orlandi. "The British mentality is different but in Spain we try to play football.
"Not everyone can play like Barcelona. They are the best, but in our league, we play the best football by far.
"The manager loves the Barcelona way. The way they press the ball out of possession and the way they play is something we try to do.
"When I was at Barcelona, the manager would go crazy if the centre-back or goalkeeper played long without trying to go through midfield.
"Teams can still play if they get the ball on the floor and we show that you don't need big tanks like most British midfielders."