Swansea carrying Welsh hopes says Brendan Rodgers
Last updated on .From the section Football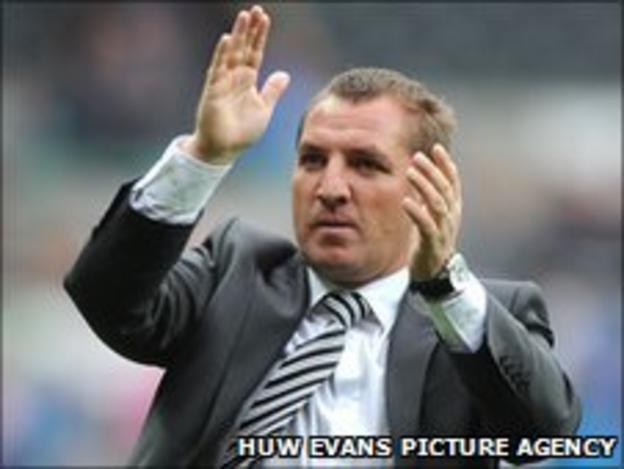 Swansea manager Brendan Rodgers says the Premier League would be a "better place" if they can win Monday's play-off final against Reading at Wembley.
"It would be great to be the first Welsh team, because it's fantastic being the first of anything," he said.
"The Premier League will be a better place, there's absolutely no question.
"Because what it would attract would be thousands of supporters to come here and actually then feel Swansea, feel the beauty and everything that's here."
Rodgers says that Swansea are not just carrying the hopes of the Welsh nation as they bid to return to the top flight for the first time since they were last there in 1983.
The Northern Irishman, 38, says he is also hoping to make his own countrymen proud, as Swansea bid to win a place in the most high profile football league in the world.
"If we play well and perform and get the result, there certainly won't be a prouder group of players and a manager at being the first Welsh team in there," Rodgers said.
"I'm only from a real small, little village [Carnlough in County Antrim] in Ireland which not many people would know of, so as you can imagine it's quite a big thing for them as well.
"But I also know I'm representing Northern Ireland as well, I've always got that at the back of my mind that I want the Irish people to be proud of their sports people - and that's also another motivation to do well."
Swansea almost dropped out of the Football League at the end of the 2002/3 season, avoiding relegation with a 4-2 win over Hull City on the last day of the season.
The win was thanks mainly to a James Thomas hat-trick, but current Swans players Leon Britton and Alan Tate were also part of the side that day.
Since that nadir the south Wales club have slowly but surely improved their fortunes and now just Rodgers' former charges Reading stand between them and the gates of the Premier League's promised land.
"The history, if you look back, having nearly gone out of the League and I speak to Leon and Tatey about that, the feeling around the city at the time must have been incredible," said Rodgers, who was appointed Swansea boss at the start of this season.
"The journey that they've been on after that has been incredible and you think to be one game away from the Premier League is incredible really.
"But I think for me, I'm very conscious that we're representing every manager that's ever managed this club and every player that's ever walked through the Vetch and through the Liberty.
"It's not about me, it's the Swansea supporters - there's an incredible support and it really is a passion, and we want to do them justice and [make up for] all those bad times that there was numbers of years ago.
"Hopefully we can keep improving because that's what they've done since that very day.
"You talk about the magic carpet ride from that bottom level and then coming through to where they are now... the outcome would be never more so deserving than to a club that's picked itself off its knees.
"We've just got to perform well and then everything else will take care of itself."