Swansea motivated by play-off defeat, says Garry Monk
Last updated on .From the section Football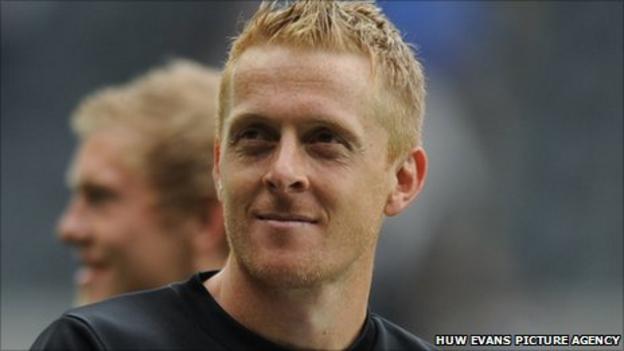 Captain Garry Monk says previous play-off heartache can inspire Swansea City's bid to reach the Premier League.
The Swans, who finished third in the table, face Reading in the Championship play-off final at Wembley on Monday.
Monk was part of the Swansea team that lost on penalties against Barnsley in the League One play-off final in 2006.
"I don't want to experience that again. It was one of the worst feelings you can have. Obviously that's in the back of the mind," said the centre-back.
"But hopefully that's used as motivation to not experience that again."
Swansea have already beaten Reading twice this season, with Brendan Rodgers' side winning 1-0 home and away.
But Monk is wary of the threat posed by Brian McDermott's side, who beat south Wales rivals Cardiff City 3-0 over two legs in the play-off semi-final.
"It's going to be an extremely tough game against a good team," added Monk. "They've got threats going forward from many areas.
"We're well aware of them and the two games that we've played in the league have been really close. We know it's going to be a tight affair again."
Monk, who joined Swansea in 2004 when they were a League Two side, says he will enjoy the Wembley experience only if they win on Monday.
"It's definitely the most important game I've every played in," he said. "These are the type of games you train week in week out to be involved in.
"We've got to go out there and enjoy it but make sure that we do the job first.
"It's going to be a great occasion. But it's one of them at the moment I'd rather enjoy the occasion afterwards.
"All this build up and everything is great but our focus is purely on the game.
"I just want to get this game done and try and get the win and then I can enjoy the whole Wembley factor if we can do that."
Monk has previous experience of the Premier League, having made nine appearances for Southampton between 1999 and 2003.
And having faced Manchester United, Liverpool and Chelsea with the Saints, the defender wants to play against the giants once again.
"Looking at it, it's probably one of my last chances to get back there," said the 32-year old.
"That's a personal goal of mine ever since I left Southampton.
"You get a taste of it, albeit a little taste - it's where you want to be. It's the best league in the world.
"It would be lovely to know that you've worked all those years [and] hard work put in [and] that you can get back there.
"From a personal point of view that would be great but also to do it with this club, where I've been for seven years, it would be even better."