Fifa is facing a constitutional crisis
By Gordon Farquhar
BBC sports news correspondent
Last updated on .From the section Football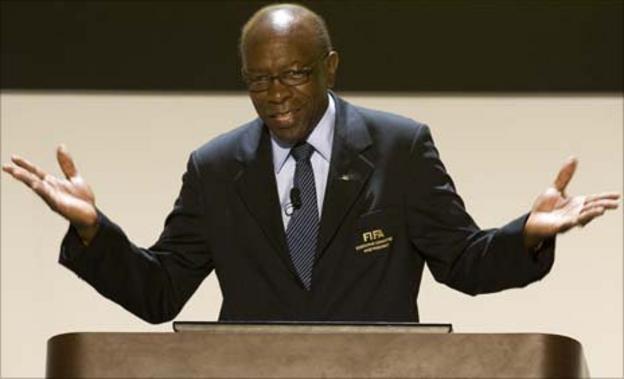 The trouble for Fifa's executive board began in October last year with the publication of an article in the Sunday Times.
It was an expose of the behaviour of a number of current and past members of the organisation's senior decision-making body, in connection with the bidding process for the 2018 and 2022 World Cups.
The newspaper secretly recorded meetings with, among others, Reynald Temarii of Tahiti and Amos Adamu of Nigeria, where they appeared to be seeking gain out of the bidding process either for their home associations or for themselves.
Evidence was sent by the newspaper to Fifa, whose ethics committee suspended Temarii and Adamu, eventually banning them from the game.
That reduced the voting membership of the executive committee from 24 to 22, for the World Cup votes in December.
Russia's success for 2018, and England's humiliation with only two votes, was trumped shortly afterwards when Qatar won the right to stage the 2022 event, leaving the USA and Australia bids trailing badly.
The post mortems that followed December's vote focused on Qatar's suitability as a host in the European summer, when temperatures in the Gulf soar above 40C.
There appeared to be a move within Fifa to have the date shifted back to the European winter, before Qatar somewhat grumpily announced it had no intention of asking Fifa if the dates could be changed, and that they would press on with their plans to create air-conditioned stadia fit for the event.
Perhaps that was a precursor to the Qatari head of Asian football, Mohammed bin Hammam, ending months of speculation by announcing he would stand against Blatter for the Fifa presidency.
One of the consequences of England's abject failure in the 2018 bid was the setting up of a parliamentary investigation into the governance of football, through the Commons Sport Select Committee.
While their brief was to mostly look at the English Football Association, inevitably the investigation swung wider, and some might say was blown open by the session a few weeks ago, where Lord Triesman, former chairman of both the FA and the 2018 bid, used parliamentary privilege to name four Fifa executive committee members who he felt had behaved unethically during the bid process.
Triesman said Fifa vice-president Jack Warner of Trinidad had asked for a fitting memorial to his contribution to football: a sports academy in his name would seem appropriate he thought, and also, that the FA could make a gesture of solidarity towards Haiti by contributing to the purchase of the television rights to show World Cup games on big screens there.
Warner, so his email to Triesman reveals, would do the negotiating, and could get a substantial reduction in the $1.6m (£970,000) cost being asked for the rights.
Fifa told the BBC that it knew nothing of such a price or of any such negotiations, which is odd, considering that Fifa, as the rights holder, would have been the body selling those rights to Haiti.
Then Triesman named Nicolas Leoz, South American football's supremo, who thought a knighthood would be nice. Ricardo Teixeira, of Brazil, wanted to know what the bid could do for him and Worawi Makudi of Thailand had his eye on rights to the England friendly international in his country that was under discussion.
At the same session where Triesman made his claims, the committee decided to make public evidence that was submitted to them by the Sunday Times, not originally included their their article last year, in which a whistle-blower from the Qatar bid named two African Fifa executive committee members, Issa Hayatou and Jacques Anouma as having been offered bribes by the Qatar bid.
All those named, including those in the Qatar bid, have since denied any wrongdoing.
A file is due to be sent to Fifa with details gleaned by the select committee and a separate investigation run by the FA, based on Triesman's claims.
All of which brings us to the extraordinary developments this week, which have led to the Fifa ethics committee calling Sepp Blatter, Warner and Bin Hammam to give evidence at a hearing on Sunday.
Their appearance was precipitated by claims of wrongdoing made by one of their colleagues, Chuck Blazer, a long-time Fifa executive committee member and colleague of Warner at Concacaf, where he is the secretary general.
Blazer handed over a file of claims put together by a US law firm, containing sworn statements from several witnesses, alleging cash was offered to delegates for 'development projects' during a meeting of the Caribbean Football Union.
Some of those witnesses felt uncomfortable about that, given that the meeting had been arranged as part of Bin Hammam's Fifa presidential election campaign.
Fifa's ethics committee will decide if that amounted to an attempt at bribery. They will also ask what Blatter knew about the Caribbean meeting; specifically, if he was aware that cash would be on offer, and if so, why he did not intervene.
Fifa already has plenty of issues with its image and the integrity of its executive board; now it is staring a constitutional crisis in the face.