Fifa yet to hear Hayatou and Anouma evidence
Last updated on .From the section Football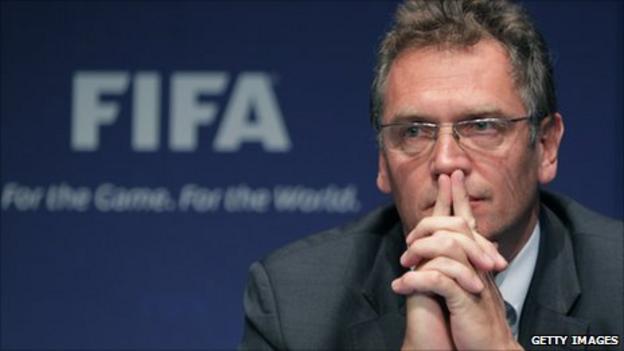 Fifa has yet to meet the whistleblower who claimed that both Issa Hayatou and Jacques Anouma were paid to vote for Qatar's successful 2022 World Cup bid.
British parliament heard claims on 10 May that the African Fifa executive members took money to vote for Qatar.
The information had been submitted by Britain's Sunday Times newspaper, who heard the claims from a whistleblower.
"We're still trying to get this meeting but it seems difficult for the person to agree," said Fifa's Jerome Valcke.
"For the time being, there is no information or new evidence on that," added the organisation's secretary general.
"We have never had this person in front of us telling us what these allegations against the members were."
Cameroon's Hayatou has been chairman of the Confederation of African Football since 1988, while Anouma heads up the Ivorian Football Federation.
Valcke was speaking at the press conference where the deputy chair of Fifa's Ethics Committee, Namibian Judge Petrus Damaseb, had explained the decision to suspend Mohamed Bin Hammam and Jack Warner over allegations of presidential election bribery.
This was despite the fact that neither Hayatou's nor Anouma's case had been discussed at the Ethics Committee meeting.
Meanwhile, the Sunday Times indicates that a potential stumbling block to talks has been the issue of the whistleblower's protection.
"The whistleblower wants to talk to Fifa's investigators and has been negotiating to meet them over the past two weeks," the paper wrote on Sunday.
"After giving initial assurances that the whistleblower would be given full protection, Fifa then changed its mind and said it would be happy just to take an anonymous statement from him or her."
Both Hayatou and Anouma have strongly denied the claims against them - as have Qatar's World Cup organisers.