Youssouf Mulumbu withdraws from DR Congo squad
By Patrice Citera
BBC Sport, Kinshasa
Last updated on .From the section Football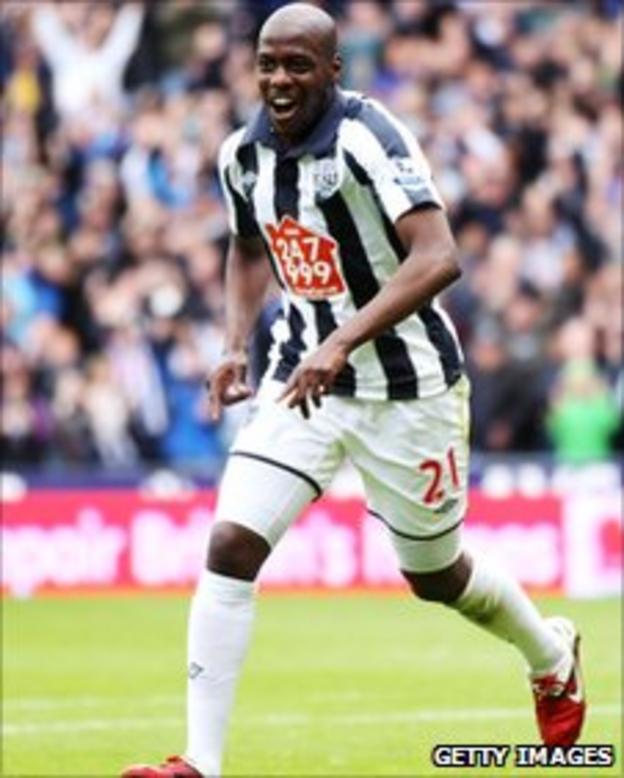 West Bromwich Albion midfielder Youssouf Mulumbu has withdrawn from DR Congo's squad to face Mauritius in their 2012 Africa Cup of Nations qualifier on 5 June.
Mulumbu had been expected to board a flight in Paris on Sunday, along with other Europe-based players, but was unable to travel, joining three others who withdrew earlier.
Kamango Tsibola, the executive director of the national team, received a text message from Mulumbu informing him that he would not be joining them as planned because of injury.
"We were awaiting Europe-based players at a location when the director got a message from Mulumbu informing him that he was not available to join his teammates for the flight to Mauritius, as he was injured," Otis Ngoma, DR Congo assistant coach told a radio station in Kinshasa.
"We were surprised to hear [that] because according to Caf and Fifa rules a player should get the clearance of the national team's doctor [before] confirming he is unfit."
Mulumbu only joined up with the DR Congo squad again in March after deciding to stay away for several months, complaining of disorganisation by the Congolese football authorities.
His withdrawal comes just days after three other Europe-based players announced that they would not form part of coach Robert Nouzaret's squad, leaving him with just 19 players to choose from.
Midfielder Cedric Makiadi, who plays for German side SC Freiburg, declined Nouzaret's invitation, as he got married on 27 May. DC Motema Pembe midfielder Kanu Mbiyavanga was called up to replace him.
Striker Mboyo Ilumbe of Belgian side La Gantoise was injured during his club's last game of the season.
And striker Mbuyi Mutombo from Belgian side St Trond also declined his call-up to the squad as he is yet to decide whether to play for DR Congo or Belgium, as he holds two citizenships.
The DR Congo FA's secretary general Ediba Bedi confirmed that Mulumbu, Ilumbe and Mutombo will not be replaced.
Two weeks ago, Lomana LuaLua was left out of Nouzaret's squad, but the coach is yet to explain why he omitted the former Newcastle striker from his original panel of 22.
Squad:
Goalkeepers: Kidiaba Muteba Robert (TP Mazembe), Mandanda Parfait (Altay, Turkey), Matampi Vumi Leya (DC Motema Pembe)
Defenders: Nkulukuta Miala Eric (TP Mazembe), Dikaba Rodrigue (Beauvais, France), Kimuaki Joel (TP Mazembe), Mihayo Kazembe (TP Mazembe), Mulemo Landry (Bucaspor, Turkey), Ebunga Simbi (Vita Club), Tsholola Tshinyama (Lokeren, Belgium), Kinkela Christian (Ajaccio, France)
Midfielders: Ngassanya Ilongo (DC Motema Pembe), DR Congo), Milambo Mutamba (Beauvais, France), Bedi Mbenza (TP Mazembe), Matumona Zola (Mons, Belgium), Kanu Mbiyavanga (DC Motema Pembe)
Strikers: Kabangu Patou (TP Mazembe), Diba Ilunga Yves (Najran, Saudia Arabia), Kaluyitukadioko Alain (TP Mazembe)