We'll give it everything, says Swansea chief Jenkins
Last updated on .From the section Football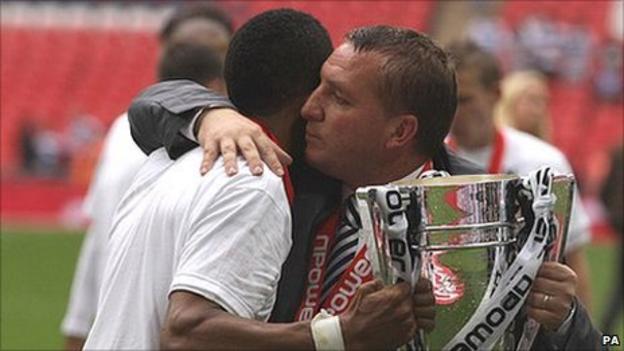 Chairman Huw Jenkins is confident Swansea can survive in the Premier League after beating Reading 4-2 in the Championship play-off final.
Scott Sinclair's hat-trick helped the Swans hold off a late Royals fightback at Wembley on Monday.
"Go back two years and we thought we had a massive task when we got into the Championship," said Jenkins.
"So we've got no worries going in and testing ourselves against the best. We'll give it everything we've got."
Jenkins reflected on a remarkable turnaround in fortunes for the south Wales club.
Eight years ago, Swansea needed to beat Hull City on the last day of the season to avoid dropping out of the Football League.
"I think we will have to pinch ourselves to get back to reality," Jenkins added.
"It's been a remarkable 10 years for this club and to have an opportunity to continue growing and building next year - and playing the very best teams in the country - is fantastic.
"We had our luck today and sometimes in sport you need that but I think it's a great achievement. Not too many teams play this way in Britain.
"We've stuck with it through different managers and we want to continue that path next year. Hopefully that philosophy will continue for a long time."
Jenkins also hailed the impact that manager Brendan Rodgers has had on the club.
"We couldn't have asked for a more fantastic manager," said Jenkins. "We're lucky we've got him."
Hat-trick hero Sinclair also praised Rodgers for his role in helping the Swans become the first Welsh team to reach the Premier League.
"He's been exceptional," said Sinclair, who signed from Chelsea on a three-year deal last summer. "I can't speak highly enough of him. He brought me in and gave me confidence.
"I've been playing every week and he's been the man who has put all the confidence in the team."
Sinclair, 22, scored twice in the space of 60 seconds midway through the first half, netting with a penalty and then from close range, before Stephen Dobbie struck with a first-time half-volley just before the break.
Reading almost staged a dramatic second-half revival as they reduced the deficit through Joe Allen's own goal and a Matt Mills header before a Jem Karacan shot hit a post.
But Swansea sealed victory when England Under-21 international Sinclair stroked home another penalty for his hat-trick in the closing minutes.
"Conceding two goals helped us refocus and get a bit of control," said Rodgers, before adding: "These players deserve to be in the Premier League, they showed great courage.
"It's fantastic. The supporters today were incredible and it's nice to repay their faith and get promotion. It was a proper, proper game and these players deserve to be in the Premier League.
"Ourselves, [runners-up] Norwich and [champions] QPR will be a credit to the Championship and will try to do well.
"We show courage and try to pass the ball but the important thing today was to try to win the game."
Swansea will now play in the top flight for the first time in 28 years and can look forward to an estimated £90m jackpot from increased revenue.
They will celebrate their promotion to the Premier League with a parade around the city on Tuesday.
The parade will start at 1830 BST from the club's former Vetch Field home and will take in the city before a civic reception at the Guild Hall.