Timeline of events surrounding Fifa corruption claims
Last updated on .From the section Football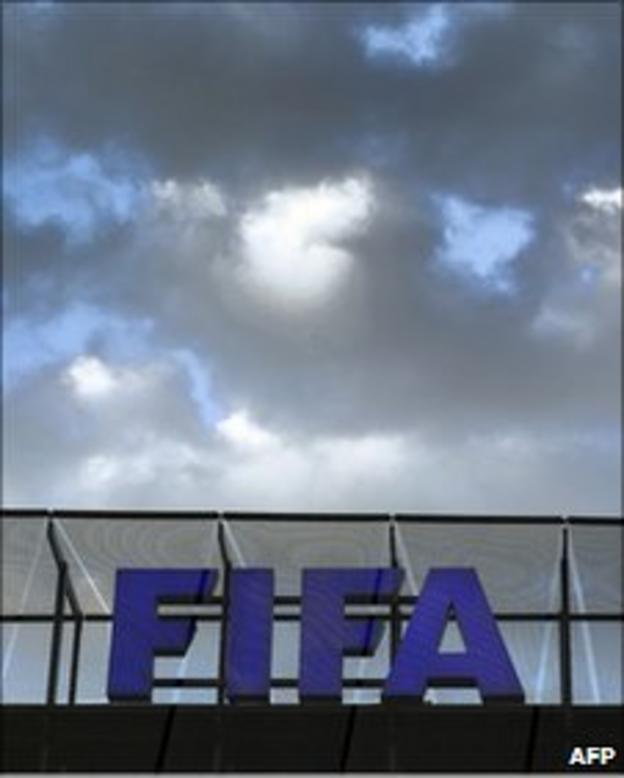 In light of the bribery and corruption allegations currently surrounding Fifa, here is a timeline of how events have unfolded for football's governing body in the last eight months.
The Sunday Times claims two members of Fifa's executive committee, Reynald Temarii of Tahiti and Amos Adamu of Nigeria, offered to sell their votes in the 2018 and 2022 World Cup hosting contest to undercover reporters.
The duo are provisionally suspended by Fifa's ethics committee, pending further investigations. Four other officials, all former executive committee members, are also provisionally suspended.
November 2010
Temarii is banned for one year and fined 5,000 Swiss francs (£3,552) for breaching the ethics code. Adamu is banned for three years and fined 10,000 Swiss francs (£7,005) for breaching five articles of the ethics code, including one on bribery. The four others are all banned and fined.
The ethics committee decides allegations of vote-trading between Spain and Portugal, who are bidding for 2018, and Qatar, who are bidding for 2022, are unfounded.
Fifa dismisses allegations made by a BBC programme against three more executive committee members. The governing body stated that the matters had already been investigated by Swiss authorities and the case is closed.
December 2010
Russia is awarded the 2018 World Cup and the 2022 tournament is controversially awarded to Qatar despite Fifa's own technical report saying that high temperatures could pose a health risk to players, officials and spectators.
May 2011
A UK parliamentary inquiry into why England failed to secure the 2018 finals is told by member of parliament Damian Collins that there was evidence from the Sunday Times newspaper that Issa Hayatou of Cameroon and Jacques Anouma of the Ivory Coast were paid by Qatar.
At the same hearing, former Football Association chairman Lord Triesman accuses Fifa executive committee members Jack Warner, Ricardo Teixeira, Nicolas Leoz and Worawi Makudi of asking for favours in return for their votes. Fifa later says all four men have been cleared of the allegations in an independent report commissioned by the FA.
An ethics investigation is opened into confederation presidents Mohamed Bin Hammam of Asia, Blatter's only challenger in the Fifa presidential election on 1 June, and Jack Warner of Concacaf concerning a meeting of the Caribbean Football Union.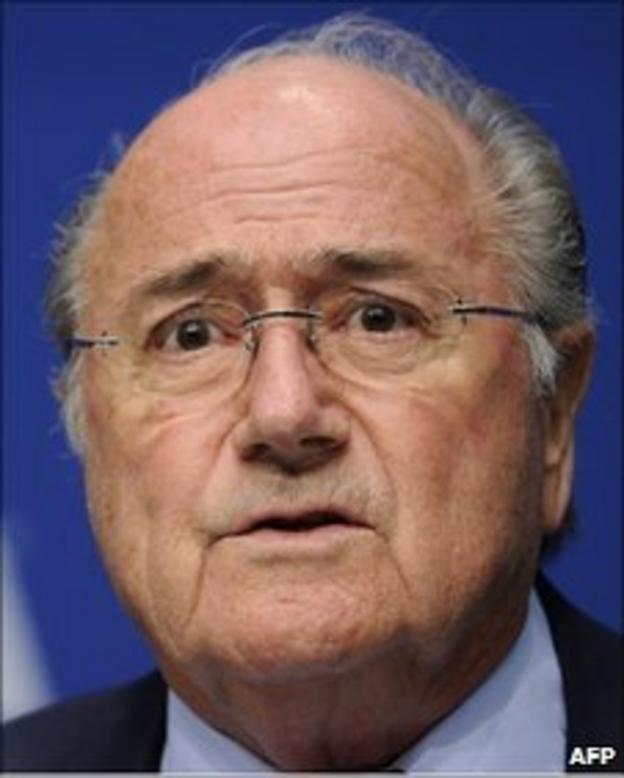 Blatter is also summoned to appear before the ethics committee hearing following a request from Bin Hammam because he may have been aware of the cash payments.
Bin Hammam withdraws his candidacy hours before the ethics committee hearing.
An ethics committee hearing clears Blatter but provisionally suspends Bin Hammam and Warner pending a further inquiry into claims they paid Caribbean delegates $40,000 (£24,250) each to vote for Bin Hammam in the election.
Fifa confirms that the 1 June election will go ahead with Blatter as the only candidate.
A leaked email from Fifa general secretary Jerome Valcke claims Qatar had "bought" hosting rights for the 2022 World Cup. Qatar denies the claims and Valcke says his comments were misconstrued.
Blatter denies Fifa is in crisis and tells a news conference there was no case to answer against four Fifa executive committee members accused of corruption during a British parliamentary hearing. He also says there had been no evidence from the Sunday Times over allegations that Issa Hayatou and Jacques Anouma had been paid to vote for Qatar's World Cup bid.
The FA announces it will abstain from voting in the elections and, along with anti-corruption watchdog Transparency International, urges Fifa to postpone the presidential election because of a deepening corruption scandal.
Sponsors associated with Fifa, including Coca-Cola, Adidas, Emirates and Visa, express their concern at the damage allegations of corruption are causing world football's governing body.
Blatter warns of the dangers facing Fifa at the 61st Fifa Congress and says he will outline his plan to tackle the 'threat' when he opens the Congress agenda on 1 June.
June 2011
Concacaf general secretary Chuck Blazer, who made bribery claims against Fifa, survives an attempt to sack him. Lisle Austin, the acting president of Concacaf, sent Blazer a letter saying he was "terminated as general secretary with immediate effect" only for Concacaf's executive committee to declare the sacking "unauthorised".
German football federation president Theo Zwanziger called for Fifa to re-examine the award of the 2022 World Cup to Qatar.
Suspended Asian Football Confederation president Mohamed Bin Hammam was denied entry to the Fifa congress after being unable to file his appeal.
A proposal by the English and Scottish Football Associations that the presidential vote should be delayed is defeated by 172 votes to 17, leaving Blatter as the only candidate standing and his appointment to a fourth term in office as a mere formality.
Addressing Fifa congress delegates, Blatter announces that in future, the location for World Cups will be decided by a congress vote, from a shortlist of candidates drawn up by the Executive Committee, but without any guidance or preference.
"I would like to show I am the one who is able to take on my the responibility football lays on my shoudlers and that you lay on my shoulders," said Blatter.
"I am ready and I can do it because I want to get the ship out of troubled waters and once again in a safe harbour so we can yet again build this pyramid whose base is national associations."
Blatter is re-elected for a fourth term as president as he wins 186 votes from the 203 member associations. He will be in charge until 2015.
"I thank you for your trust and confidence from the bottom of my heart," said Blatter. "Our pyramid is intact, the base, the foundation is strong and together we have four years to continue on our path and do our job."