Dunfermline's John Yorkston says 10-club SPL 'is dead'
By Chris McLaughlin & Jim Spence
BBC Scotland
Last updated on .From the section Football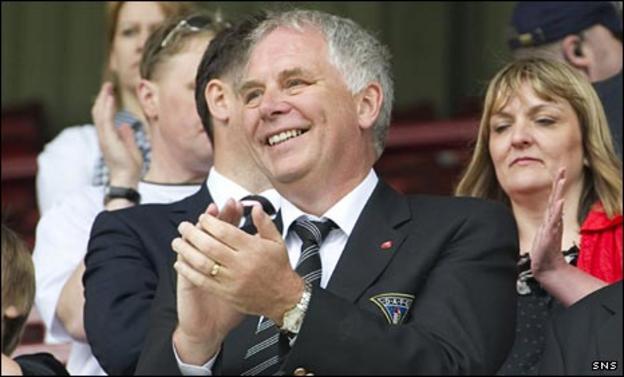 A proposed move to a 10-team Scottish Premier League is now dead, according to newly promoted Dunfermline Athletic's chairman John Yorkston.
It follows a meeting of representatives from eight of the current 12 clubs at Tynecastle to discuss the way forward for the top flight.
Only Celtic, Rangers, Aberdeen and Hibernian were not represented.
"There was a unanimous decision in favour of re-investigating a league of 14," Yorkston told BBC Scotland.
"A 14 reflects the wishes of the fans and would allow the development of players without the fear factor.
"The SPL have been notified of this and we'll see how things move forward.
"I think it's safe to say that, after today's discussions, a league of 10 is now dead."
The 10-club proposal was the result of a SPL working party containing directors from Aberdeen, Celtic, Hibernian, Motherwell, Rangers and St Mirren.
Hamilton Academical chairman Ronnie McDonald also voiced his support for the proposal before the Lanarkshire club's relegation.
Aberdeen continue to back a smaller division and a club spokesman told BBC Scotland: "The 10-club proposal is the only one that is financially viable.
"We have yet to see any other model which is workable financially.
"A top tier of 10 with another tier of 10 clubs below is the one which we have publicly backed and is the only one that stacks up."
SPL chief executive Neil Doncaster, claiming there was broad support for the proposals, had also warned that a 10-club set-up was the only one that was financially viable.
But a proposed vote on change has been delayed on three occasions when it became clear that the required 11-1 majority would not be achieved.
Kilmarnock, Inverness Caledonian Thistle, Dundee United and Motherwell have been vocal in their opposition to aspects of the plan.
A 10-club top-flight was only one of a number of proposed reforms, including a a merger with the Scottish Football League leading to pyramid structure in Scottish football, relegation play-offs and a redustribution of money away from the top two positions in the league and reallocating it to the other eight clubs.
Doncaster was adamant that those other measures could only be agreed along with a reduction to 10 clubs in the SPL.
However, he also said it was up to clubs opposing the plan to come up with alternatives.