Northern Ireland U21s draw with Faroe Islands
Last updated on .From the section Football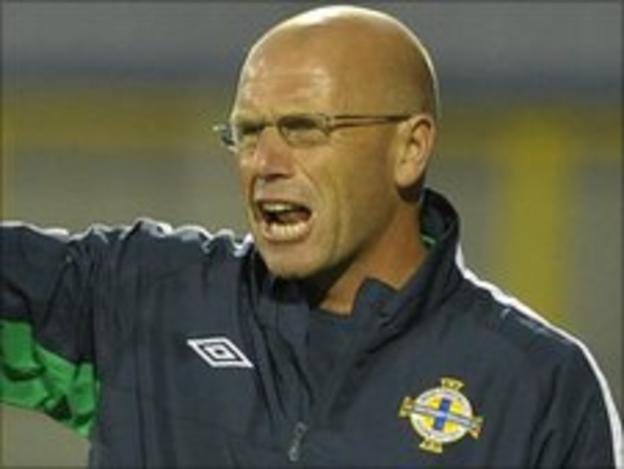 Northern Ireland were held to a goalless draw by minnows the Faroe Islands in their opening European U21 qualifier on Tuesday night.
It could have been even worse for Steve Beaglehole's team as the Faroes' Rogvi Holm failed to beat Conor Devlin from a penalty in second-half stoppage time.
The stalemate was a hugely disappointing start to the campaign for the Northern Irish.
The group also includes Serbia, Denmark and Macedonia.
Northern Ireland host the Faroe Islands in August before games against Serbia and Denmark a month later.
Beaglehole said before the game he was looking for his side to get off to a better start than they did in qualifying for Euro 2011, when they opened with three straight defeats, including a 6-2 home thrashing by Iceland.
His side ended that campaign second bottom of group two with seven points from eight games, their only two wins coming home and away against San Marino.
Faroe Islands U21: Kristian Joensen, Ellingsgaard (Rene Joensen 77), Erling Jacobsen, Holm, Eysturoy, Zachariasen (Vatnsdal 80), Lokin, Lakjuni, Bartalstovu, Lava Olsen (Petersen 70), Olsen. Subs Not Used: Magnussen, Nielsen, Isaksen, Bardur Hansen.
N Ireland U21: Devlin, Clucas (Winchester 82), Hanley, Norwood, Ramsey, Hegarty, Grigg (Ball 71), Lund, Boyce, Magennis (Bryan 45), Carson. Subs Not Used: Drummond, McCashin, McKeown, Lawrie.