Ferrie Bodde signs new 12-month Swansea contract
Last updated on .From the section Football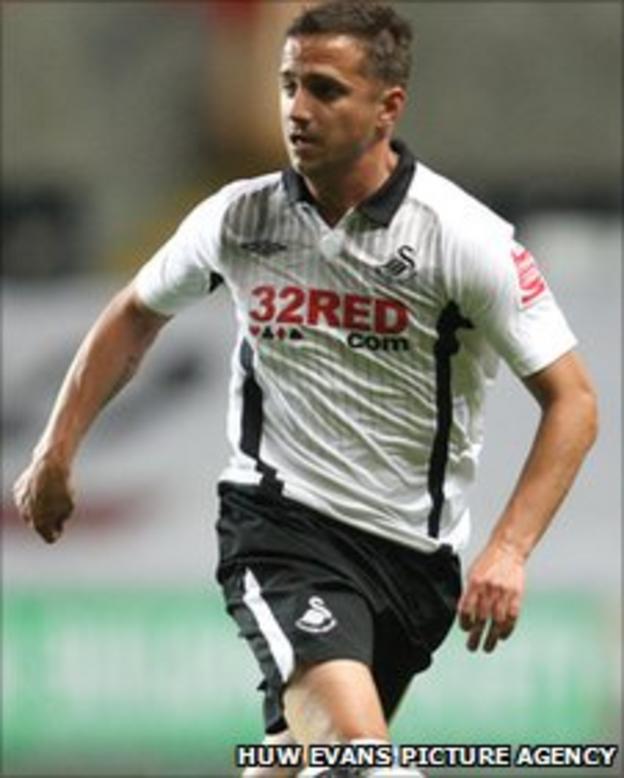 Injury-plagued midfielder Ferrie Bodde has signed a new one-year extension with newly-promoted Swansea City.
The 29-year-old has not played since February 2010 after suffering a recurrence of a knee injury, which required a second major operation.
"I am very happy to sign a new contract," said Dutchman Bodde.
"While the club has had a lot of success on the pitch, it has been a very difficult and frustrating time for me because of my knee problems."
Bodde lasted just 28 minutes on his return to the Swansea side over a year ago when his knee problems struck again.
Before that fleeting appearance, the £5m-rated Dutchman had not played since September 2009 when his return from 10 months out with cruciate ligament damage lasted just eight minutes.
He suffered his first cruciate ligament injury in November 2008 during the 3-2 home defeat to Birmingham City.
But Bodde, who has not played under current manager Brendan Rodgers, has been training with Swansea for the past seven weeks and will return for pre-season training before the rest of the squad.
"Everyone at Swansea has supported me and the club has backed me during my injury and by offering me a new deal," added Bodde, who joined Swansea from ADO Den Haag for £50,000.
"I am very grateful for that, and now I want to help the club on the pitch.
"In a way I didn't want the season to end because I have been building myself up in training, but I'll come back from Holland in 10 days and get back into training.
"I can't wait for next season because the Premier League is the best in the world."
Bodde was the subject of two failed bids from Derby in the summer of 2008 when the Dutchman handed in a transfer request. He subsequently changed his mind and signed a new deal.
In the summer of 2009 summer, Premier League side Wigan failed with two £4.5m bids, while a lesser bid from Bolton Wanderers was also rejected.
But Bodde's dream of playing in the Premier League is now set to materialise with the club that gave him his chance in English football.
"It seems a long time since I last played for Swansea, but I can't wait to pull on the shirt again," he said.
"The Premier League is where this club deserves to be. We have the stadium, manager, staff, players and supporters to stay there.
"I've been desperate to play under the gaffer because I can see how everyone is enjoying working with him and how the squad is improving every day.