Raouraoua formally appointed into Fifa's ExCo
Last updated on .From the section Football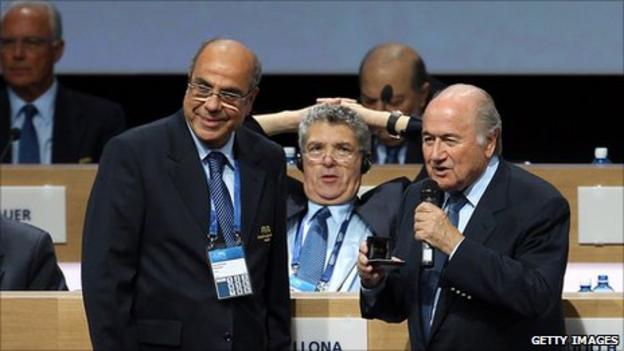 Algerian federation president Mohamed Raouraoua has been formally appointed onto Fifa's Executive Committee.
Raouraoua replaced disgraced Nigerian official Amos Adamu on the 24-man panel during this week's Fifa Congress.
"It is a huge pleasure for me to enjoy this privilege of being on the Executive Committee," he said after his welcome by Fifa president Sepp Blatter.
"And for somebody who spoke a few days ago, I have been well-elected even though some may not like this."
Raouaroua's appointment has led to some complaints that North Africa is now over-represented among the four Africans on Fifa's Exco.
Two of Africa's four men hail from North Africa, with Egypt's Hany Abo Rida also on the panel.
The continent's remaining Exco members hail from Central Africa, Caf president Issa Hayatou of Cameroon, and West Africa, Ivorian Jacques Anouma.
South Africa has not been represented on Fifa's highest table since Botswana's Ismail Bhamjee quit the Executive Committee after being caught selling 2006 World Cup tickets on the black market.
Raouraoua has twice led the Algerian federation, from 2001-2005 and, most recently, from 2009 onwards.
He is credited by many within Algerian football circles for leading the charge to bring players with dual nationality into the Algerian side.
After Fifa changed the rules following Algerian intervention, the Desert Foxes qualified for their first World Cup in 24 years thanks to the expertise of numerous former French youth internationals.
The 64-year-old, who already serves on Fifa's Legal Committee, was elected by the Confederation of African Football at its February congress in Sudan.
Meanwhile, Adamu is appealing at the Court of Arbitration for Sport against his three-year Fifa ban for soliciting bribes surrounding his 2018 and 2022 World cup votes.