Gareth Southgate reveals FA youth football initiative
Last updated on .From the section Football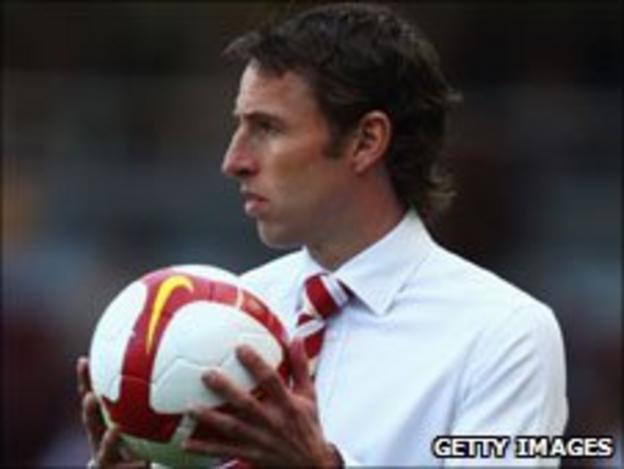 The Football Association has unveiled plans that could revolutionise youth football in England.
Under the proposals, children will not be allowed to play 11-a-side games until under-13 level.
"In 11-a-side matches there are fewer touches for players," said FA head of elite development Gareth Southgate.
"If we go to that format too young then it becomes much more of an athletic-based game. We have huge pitches that kids can't get around."
This and other proposals, such as games being played on smaller pitches and with smaller goals, are the result of an 18-month investigation of grassroots football.
Any changes will need to win support from 75% of the FA's voting shareholders at a vote in September.
The FA has highlighted that three of the most successful countries in recent years - Spain, France and Italy - do not allow 11-a-side games until under-14 level, and Southgate said he felt there was an appetite for change in the English game.
"People have seen the way that the likes of Barcelona have played this year and they're asking: 'Why can't our kids play that way?'," said the former Middlesbrough manager.
"We want them to play that way. We feel that what we are proposing will give them the environment to develop those skills.
"We have down the years produced some technically gifted players but we want to increase that pool of talent so that if our best one or two players get injured, there is a bigger talent pool to come in."
Research shows that children who are slower to mature physically are being forced out of the game before they reach their potential.
Factors such as the pitches they play on being too big means smaller more gifted players tend to lose out in favour of more athletic players.
Southgate stated: "It benefits the physically stronger players but there's a real danger that we lose the smaller, more technically gifted ones.
"There is a high drop-out of players in that nature."