Australia sports minister demands Fifa reform
Last updated on .From the section Football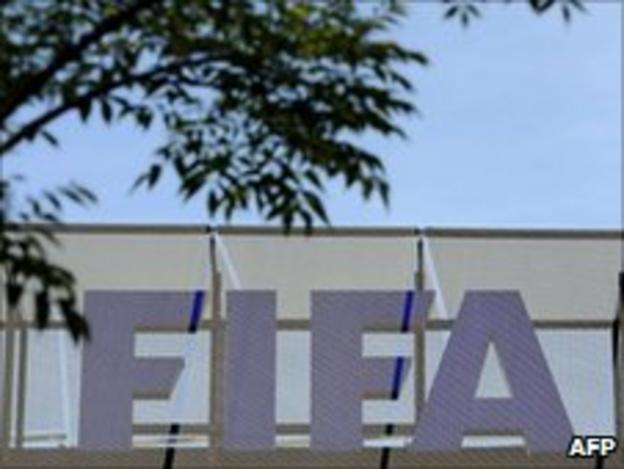 Australia's sports minister says governments should think twice before bidding to stage a World Cup until Fifa has been subject to external scrutiny.
Senator Mark Arbib also criticised Fifa's bid processes for the 2018 and 2022 World Cups.
Australia was humiliated when it received just one Fifa vote to host the 2022 tournament which was won by Qatar.
"Fifa need to clean up their game and until they do no government should have confidence in them," said Arbib.
"Seeing what I have seen in terms of the bidding process, and now we hear about collusion between bidding nations, it's pretty clear it wasn't a fair playing field," Arbib added when speaking to Australian radio station ABC.
"Knowing what we know, without reform of the Fifa organisation [and] reform of the bidding process, no government would want to put funds into any bidding process."
Arbib also added that until Fifa make internal changes, Australia will not be bidding for another World Cup.
"There is no more money going towards bidding processes for World Cups," he said. "The FFA are not chasing any more Fifa bids."
Sepp Blatter, 75, was re-elected as president of football's world governing body for a fourth four-year term on Wednesday after his only rival, Asian football chief Mohamed Bin Hammam, withdrew from the contest amid claims he tried to bribe voters.
The Swiss won a landslide victory at Fifa's 61st Congress by securing 186 votes out of 203 despite a call for the election to be postponed by England's Football Association after months of corruption allegations.
Australian football's governing body, the Football Federation Australia (FFA), voted in favour of Blatter's re-election and indicated it supported internal reform.
But Arbib said an external investigation was needed, similar to that undertaken by the International Olympic Committee following the bribes for votes scandal that overshadowed the 2002 Winter Olympics in Salt Lake City.
"I think they [Fifa] need to bring in someone from outside the organisation," said Arbib. "And they need to take action to reform their organisation.
"Certainly the president Sepp Blatter said he would do that yesterday and the football federations around the world need to hold him to account.
"My view is there needs to be significant reform at Fifa, at every level."
Earlier this week, key sponsors including Adidas, Coca-Cola, Emirates and Visa, expressed their concern at the damage allegations of corruption were causing Fifa.
However, Adidas announced on Friday that it will continue its partnership with the organisation but would urge Fifa to clean up its act.
"[Adidas] enjoys a long term partnership with Fifa as a sponsor and supplier around their events at all levels of the game and we have agreed to continue this partnership," it said in a statement.
"We hope that Fifa will do its best to reach clarity on the allegations soon. The negative tenor of the public debate around Fifa at the moment is neither good for football nor for Fifa including its partners."