Africa Cup of Nations qualifying as it happened
Last updated on .From the section Football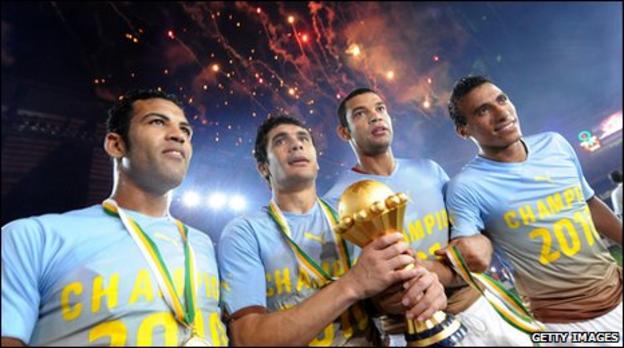 Follow all the action from the latest round of qualifying for the 2012 Africa Cup of Nations.
Get in touch with your thoughts on the day's games via e-mail on fast.track@bbc.co.uk or send us an SMS text on +44 77 86 20 20 08.
Click refresh to get the latest scores.
Results of Saturday.
Group C:

Zambia

3-0

Mozambique -

Result
Group J:

Uganda

2-0

Guinea Bissau -

Result
Group F:

Namibia

1-4

Burkina Faso -

Result
Group E:

Cameroon

0-0

Senegal -

Result
Group G:

Sierra Leone

1-0

Niger -

Result
Group D:

Morocco

4-0

Algeria

Result
FOLLOW the UPDATES FROM SATURDAY'S MATCHES.
2155GMT: FINAL SCORE Morocco 4-0 Algeria: Morocco seal an important win to end Saturday's coverage of the fourth round of the qualifiers. There are several matches on Sunday so please join us then. Thank you and good night.
2126GMT: GOAL! Morocco 4-0 Algeria: Striker Oussama Assaidi now put the game beyond the Algeria with his goal that sends tha fans singing in the stadium.
2117GMT: GOAL! Morocco 3-0 Algeria: Youssouf Hadji has made 3-0 for Morocco who are now coasting to a comfortable victory.
2102GMT: The second-half is underway in Marrakesh as Morocco are hoping to consolidate their first-half lead.
2047GMT: HALF-TIME Morocco 2-0 Algeria: The referee blows his whistle for half-time and Algeria will be hoping improve their performance after the interval.
2039GMT: GOAL! Morocco 2-0 Algeria: Arsenal striker Marouane Chamakh doubles the Atlas Lions' with the home side showing promise of scoring more goals in the game.
2026GMT: GOAL! Morocco 1-0 Algeria: Mehdi Benatia has given Morocco the lead in their game in Marrakesh.
200GMT: Game between Morocco and Algeria is underway withy both sides seeking to win to brighten their chances of qualifying.
1850GMT: FINAL SCORE Sierra Leone 1-0 Niger: Sierra Leone have secured a win thanks to the second half goal scored by Ibrahim Bangura. The victory also keeps group opponents Egypt in the hunt for a place at the 2012 Africa Cup of Nations.
1754GMT: GOAL! Sierra Leone 1-0 Niger: Ibrahim Bangura has given the game the much-needed lift with his goal to send the home fans into raptures.
1752GMT: The second-half is underway in Freetown with Sierra Leone seeking to get behind the defence of Niger.
1740GMT: HALF-TIME Sierra Leone 0-0 Niger: It is half-time in the game in Freetown and it's still goalless.
1650GMT: Game is underway in Freetown but apparently it kicked off a little later and after 10 minutes it's still goalless between Sierra Leone and Niger.
1645GMT: Sorry no news from Sierra Leone yet. Just done some maths here in the office and Senegal will qualify for the Nations Cup if they beat DR Congo in Dakar in their next qualifier in September.
1630GMT FINAL SCORE Cameroon 0-0 Senegal: The battle of the Lions ends in a draw - but it's the Teranga Lions who will be the happier of the two as they stay top of Group E with 10 points - that's five ahead of Cameroon. The normally reliable Samuel Eto'o will be ruing a missed penalty in the closing stages.
1624GMT: MISSED PENALTY AND TWO RED CARDS!! Cameroon get a penalty but Eto'o hits the bar! Before and after that Senegal are shown two red cards - into injury time in Yaounde.
1610GMT FINAL SCORE Namibia 1-4 Burkina Faso: An injury time goal from Jonathan Pitroipa has secured an emphatic win for the visiting Stallions, who only need a point in their last game in The Gambia to qualify for the finals. Thanks to the additional information from Confidence Musariri on the e-mails.
1600GMT: Chances for both sides in Yaounde - Eto'o for Cameroon and Niang for Senegal but the respective keepers make good saves - BBC's Randy Jo Sa'ah says it's an exciting game that's becoming more balanced.
1555GMT GOAL! Namibia 1-3 Burkina Faso: Tangeni Shipahu pulls one back for the Brave Warriors - but surely its too little too late.
1552GMT: It's a tense game in Yaounde - Senegal are defending for all they are worth, Eto'o has come close with a free-kick - and if corners are anything to go by the Indomitable Lions are in charge they have nine so far and Senegal just the one.
1548GMT: Confidence now e-mails me to say it is 3-0 to Burkina Faso over Namibia with Alain Traore scoring a penalty.
1540GMT: I have been awarded a yellow card by Confidence Musariri who tells me it is now Namibia 0-2 Burkina Faso. And the first goal was scored by Abdulrazak Traore after 12 minutes and then on 57 minutes Aristide Bance doubled the lead from the penalty spot.
1535GMT: Cameroon against Senegal is back underway.
1525: BBC reporter at the game in Yaounde Randy Jo Sa'ah says there is an electrifying atmosphere at the Cameroon game - with around 1500 Senegalese fans in the crowd of 45,000.
1520GMT HALF-TIME Cameroon 0-0 Senegal: A couple of chances at the end of the first half with an Eto'o shot saved by the Senegal keeper and then at the other end Senegal get their first corner of the game - striker Mamadou Niang then gets a yellow card for arguing with the referee.
1510GMT: Cameroon seem to be dominating Senegal in Yaounde - the Indomitable Lions have had several scoring chances. Samuel Eto'o has had a claim for a penalty turned down. Remi Gomis has the first yellow card of the game for a foul on Eyong Enoh. Sorry for the delay Valery Ayafor who asked - Why are we not getting updates from the Cameroon Vs Senegal game?
1506 GMT FINAL SCORE Zambia 3-0 Mozambique: Zambia move to the top of Group J for the time being with nine points - two ahead of Libya who should regain top spot when they play in Comoros tomorrow.
1505GMT FINAL SCORE Uganda 2-0 Guinea Bissau: That's back to back wins for Uganda over Guinea Bissau and Uganda stay top of Group J with 10 points, Guinea Bissau are third with three points - the other game in this group is tomorrow with Angola hosting Kenya.
1503GMT: I told you the Uganda games was being followed all over the world here is another e-mail - I'm Dan Katongole in China...happiness is killing me for the job well done by our boys...Uganda Cranes Viva!
1456GMT: Approaching half-time in Windhoek and Burkina Faso lead 1-0 over Namibia - Narcisse Yaméogo with the goal. Updates direct to our reporter in Windhoek Frauke Jensen from the coaching staff on the Namibia bench!
1455GMT: Five minutes left and Zambia's Isaac Chansa is given his marching order after picking up a second yellow card.
1447GMT: Zezinho produces a few moments of brilliance for Guinea Bissau but to no avail Uganda still lead 2-0.
1445GMT: Mystery solved it's not Patrick Phiri the former Zambia international (see 1421GMT) - the other Patrick Phiri texts again: Mbesuma and Chris Katongo back to their scoring best for Chipolopolo - Africa be warned! (by the way this is not the former Zambia international - just a patriot haha!)
1435GMT: But seems Obua is probably the only Ugandan who is upset - Carol Amuge in Kampala texts saying: Feels nice to be Ugandan. And Peter Ssekiwunga in London also texts - I've never seen my country Uganda in a big tournament like the Africa Cup of Nations during my entire lifetime and I'm 31 years old - can't wait for the final whistle. Well Peter a win won't guarantee the Cranes a spot in the finals but it will be a big step.
1434GMT: Former Uganda captain David Obua is booed when he throws his shirt at the bench when he is substituted with 20 minutes left in the game.
1430GMT: Opps sorry seems I got my times a little mixed up! Cameroon and Senegal are now underway in Yaounde!
1430 GOALS! Zambia 3-0 Mozambique: Chipolopolo score two quick goals to take charge of the game - Katongo scores his second of the game and then less than a minute later Mbesuma finds the net.
1425 GOAL! Uganda 2-0 Guinea Bissau: This time Massa finds the target as he rounds the defence to slot into an empty net - surely three points for the home team and one big step towards the 2012 Nations Cup - or am I speaking too soon?
1421GMT: Patrick Phiri in UK (not sure if this is the former Zambia international...) texts: Come on Mighty Zambia! Bring back the good old days when we scored goals for fun.
1413GMT: Guinea Bissau's goalkeeper is forced to punch away a fierce shot of Geoffrey Massa.
1412GMT GOAL! Zambia 1-0 Mozambique: Chris Katongo scores a minute into the second half from close range after pass from Joseph Musonda who had got the ball from Mbesuma.
1406GMT: Uganda get the second-half underway at the Namboole stadium just outside Kampala looking to hold on to their lead over Guinea Bissau.
1400GMT: And the third game of the afternoon is underway in Windhoek as Namibia host Burkina Faso in Group F, which only as three teams and this week The Gambia get to have a rest.
1358GMT: Pethias in Lusaka Zambia texts that he 'smells a goal from the Chipolopolo boys. The Mambas are definetly going down today.'
1356 HALF-TIME: Uganda 1-0 Guinea Bissau. The BBC's Andrew Luwandagga says Guinea Bissau have largely been undersiege in the first half.
1355GMT HALF-TIME: Zambia 0-0 Mozambique.
1352GMT: And that goal will no doubt bring a smile to the face of John Esabet in the Republic of Ireland who e-mailed saying: 'King' David Obua please send Uganda to Africa Cup of Nations like your late father Denis did in 1978.
1350GMT GOAL! Uganda 1-0 Guinea Bissau: First goal of the afternoon goes to Godfrey Walusimbi as his cross evades the Guinea Bissau goalkeeper and The Cranes fans will now have an eye on their first Nations Cup finals since 1978!
1340GMT: Uganda are creating the chances but can't seem to find the back of the Guinea Bissau net - David Obua misses with a header and then Andy Mwesigwa does the same from th Cranes 5th corner of the game.
1337GMT: BBC's Kennedy Gondwe reports from Zambia that Collins Mbesuma (remember him!) has had a goal disallowed for offside and Chipolopolo are doing most of the attacking.
1327GMT: Uganda have had a shot from Egypt-based striker Geoffrey Massa cleared following a goalmouth melee and forced a third corner of the game but again nothing comes of it.
1320GMT: No news of goals in our opening two matches. Darwin Chimenge has sent an e-mail saying: I don't see Zambia struggle today, Mozambique will be playing for revenge, they will be panicking and that will cost them. But Zambia really have to work extra hard for it.
1305GMT: Remember only the group winners are guaranteed a place in the finals. The two best runners-up form Groups A to J will also qualify but there needs to be some complicated maths done at the end of the qualifying campaign to work out who's in and out! The runner-up in the five-team Group K will also reach the finals.
1302GMT: Match in Kampala is also underway between Uganda and Guinea Bissau - and it sounds like a colourful game with the Cranes in bright yellow and Bissau all in red!
1304GMT: We are underway in Group C where second-placed Zambia are hosting the team in third Mozambique, the game is being played at the Nchanga Stadium in Chingola in the north of the country.
1255GMT: BBC's Andrew Luwandagga says the stadium in Kampala is over capacity but luckily no problems at the moment. And this Uganda game has the attention of fans all over the world - Cephas Masaba in London says: After today's match with Guinea Bissau - Uganda will have one leg in the finals and the stakes are high and I bet the Cranes .
1250GMT: Some team news from Kampala Hassan Wasswa will replace suspended captain Ibrahim Sekagya for Uganda in their Group J game against Guinea Bissau that gets underway in a few minutes time.
1240GMT: An e-mail from Medpanton in USA: I'm begging the Leone Stars to please get a victory for us. It won't matter which way we get it but we deserve a win so we can keep the hope of being best runners up. And my guess is 3-0 for Leone Stars. If we loose or draw, the this Swedish coach should go.
1235GMT: Some news away from the Nations Cup qualifiers - football's world governing body, Fifa, are investigating the betting patterns surrounding Nigeria's 4-1 win over Argentina on Wednesday.
1230: Six matches today and Senegal know a win in Cameroon will put them in with a great chance of reaching the finals in Equatorial Guinea and Gabon. The Teranga Lions have been boosted by the news that Toulouse defender Cheikh Mbengue and Lyon full-back Lamine Gassama can play this afternoon.
1226GMT: Email Cândido in Maputo: (Coach) Mart (Nooij) promised Mamba's revenge in Zambia, let's see what he gets. But I am sure it will be a good game.
1225GMT: Luka B texts from Zambia: Zambia's Copper Bullets are simply waiting to double the tally from their previous win over Mozambique from 2-0 to 4-0.
1200GMT: First e-mail is from Frank Lynho in Freetown: My darling Leone Stars will defeat Niger 2-0.