Brian Quinn pays tribute to departing Celtic chairman
Last updated on .From the section Football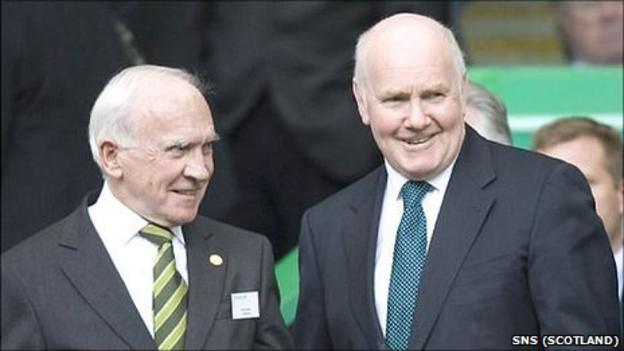 Brian Quinn, a former Celtic chairman, has paid tribute to the contribution of his successor John Reid, who will step down from the post in October.
"John has provided the leadership you'd expect from an ex-Cabinet minister," Quinn said of Reid - Baron Reid of Cardowan since his peerage in 2010.
"He has kept the ship straight. There has been a lot of turbulence both on the field and off the field.
"John did it his way - I've no fault to find with him."
He added: "You've got to have a wide range of tolerance for how people conduct themselves in this kind of job."
Lord Reid has been an outspoken and highly visible Celtic chairman and, in the past season, he has been critical of the standard of refereeing in Scotland.
At Celtic's annual meeting last year he said "bold, radical action" should be taken against "lies, conspiracies and cover-ups" within Scottish football.
That followed the controversy at Tannadice when referee Dougie McDonald admitted to lying to Celtic manager Neil Lennon about how a decision had been reached to overturn a penalty decision, initially given to Lennon's team.
"We're not asking for special treatment, but neither will we be treated as less than anyone else," Reid had added. "Those days are gone."
Quinn, though, said he felt any suggestion of Scottish referees being biased was wide of the mark.
Referring to his seven and a half years in the post, he told BBC Scotland: "I would say my main criticism of the refereeing situation was competence rather than bias.
"The demands on referees have increased over time but, comparing it with other leagues that I see, I don't think the quality of referees in Scotland was as high as it should have been in my time.
"I still come up for a number of Celtic games and I see games south of the border too.
"I think strenuous efforts are being made to improve the quality of referees but that is where the emphasis should fall - on the competence of referees and, in particular, assistant referees - linesmen."
And Quinn added: "Did I think there were mistakes made? Yes, of course, but there are mistakes made in every walk of life.
"The question is, are the mistakes greater than in other fields? It is very hard to find a comparison - I don't watch rugby or cricket.
"But, on the whole, bias was not a huge issue for Celtic."
Reid will hand over the reins to Ian Bankier, a businessman in the whisky industry, and Quinn outlined the challenges the new man will face.
"The biggest problem is how you reconcile your wish to have success on the football field with the avoidance of getting into trouble financially," he said.
"It is a challenge that is global, it is not just related to Scottish football.
"There is always pressure from the fans and the media to do better, and in Scotland that pressure tends to be concentrated on two clubs in particular.
"How you manage that pressure and how you keep the club from getting into financial difficulties is the continuing problem."
And, despite the "unremitting pressure" that "gets in to every pore of your being", Quinn viewed the position he held at Celtic as a privilege.
He said: "It is a great honour to be asked to chair the football club that you have supported all your life.
"There is an enormous amount of job satisfaction. You certainly don't do it for the amount of applause; you do it because you think it is worth doing and worth doing well.
"If you've got a supportive board and you make progress on and off the field, then that brings its own reward.
"But it's not a financial reward, it's a reward that comes from doing a very difficult job as well as you can."