Striker Jordan Robertson signs for Scunthorpe United
Last updated on .From the section Football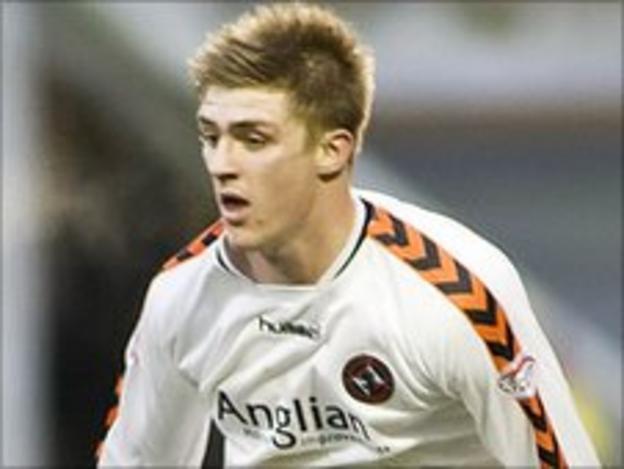 Scunthorpe United have made their first signing of the summer by bringing in striker Jordan Robertson following his departure from St Johnstone.
The 23-year-old Sheffield-born front man, who played for Iron boss Alan Knill while on loan at Bury in August 2009, has signed a one-year deal.
Robertson resumed his career north of the border in April after 18 months out of the game.
He was sent to prison in October 2009 for causing death by dangerous driving.
Robertson began at his home town club Sheffield United, where he made two League Cup appearances in five seasons.
But his main experience while came from a succession of loans while on contract at Bramall Lane with: Torquay United, Northampton Town, Dundee United, Oldham, Southampton, Bury and the Blades' Hungarian sister club Ferencvaros.
It was during his spell with Southampton that he was involved in a car crash on the M1 on Christmas Day 2008 that led to him being handed a 32-month custodial sentence.
After his release from prison, Robertson was offered a trial by one of his former loan clubs Dundee United.
But he instead went to Scottish Premier League side St Johnstone where he finished last season on a short-term contract.
Scunny boss Knill has no doubts that Robertson has the strength of character to put his off-field nightmare behind him.
"He thinks this is somewhere he can resurrect his career," Knill told BBC Radio Humberside.
"And he's got an unbelievable desire to prove people wrong.
"I was with Jordan at the time of the trial. He always held his hands up at the time and knew just what a tragic mistake he had made and was really remorseful.
"But everyone deserves a second chance and all he wants now is to get his career going again.
"He's a really good footballer. Strength, power and mobility.
"When we first had him at Bury we thought 'Oh my God, there's a player there.
"Then other things take over and he's had a couple of years out, but he's only 23, there's still plenty of time and we hope the talents he had haven't been lost."
Robertson may not be the last front player to join the Iron this summer.
Knill has also been linked with a move for his former Bury striker Ryan Lowe. But the ex-Shakers boss is understandably keeping his cards close to his chest.
"I have agreed on one definite," he said. "I'm hopeful that will be done by next week, and that we might have another couple in front and wide positions, all of them coming up a level, and then we're more or less done."