Namibia launch Burkina complaint
Last updated on .From the section Football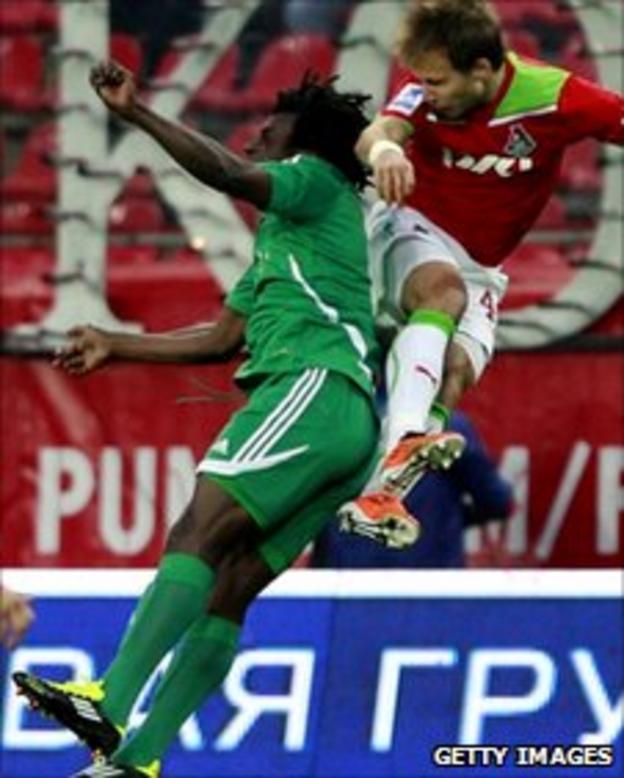 Namibia have launched a formal complaint, after suspecting Burkina Faso of fielding an ineligible player in two Africa Cup of Nations qualifiers.
The Namibia Football Association (NFA) complained to the Confederation of African Football (Caf) over Burkina Faso's defender Herve Zengue, who they believe does not meet Fifa rules of eligibility.
Cameroon-born Zengue played in Burkina Faso's 4-1 win over Namibia in Windhoek on Saturday, a result which ended Namibia's hopes of qualifying for next year's Nations Cup.
He also played in a tie game between the two countries on 26 March, which Burkina Faso won 4-0 - just a day after he was granted a Burkinabe passport.
"The fact that he [Zengue] became a Burkina Faso national is not enough to make him eligible to play in this [26 March] match," NFA secretary general Barry Rukoro said.
"There are a lot of other procedures that he must have to adhere to.
"It's fine if he did that but we cannot take chances and accept that he might have done that."
Fifa laws state that a player has to apply to the world governing body for a change of nationality after being granted new citizenship.
Burkina Faso lead the three-team Group F in Nations Cup qualifying, with nine points, and are on course to reach the finals if The Gambia fail to beat Namibia in September.
However, Caf could award the points Burkina Faso took from their two games with Namibia to the Brave Warriors, if Zengue who plays for Russian club Terek Grozny, is found to be ineligible - an outcome which would radically alter the group's outcome.
A transfer of points from one team to the other would see Nambia jump from bottom of the group to top, with six points, leaving Burkina Faso and The Gambia on three points each.
The Stallions' Portuguese coach Paulo Duarte confirmed that Zengue was born in Cameroon, but said the footballer is now a naturalised Burkinabe because his wife comes from that country.
No one from Burkina Faso's football federation was available for comment when contacted by the BBC on Wednesday.