DC Motema Pembe sack coach Nabi
By Patrice Citera
BBC Sport, Kinshasa
Last updated on .From the section Football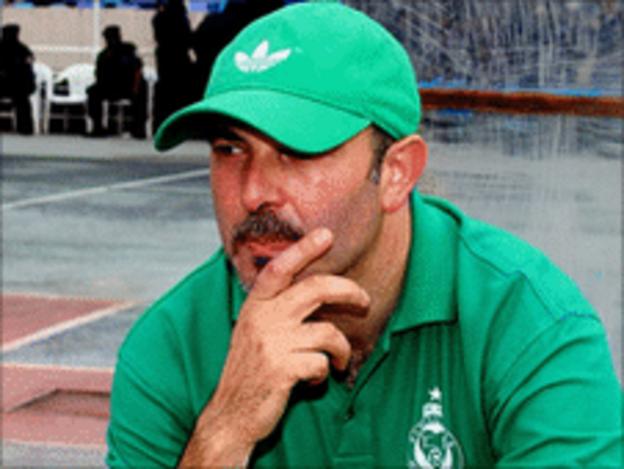 DR Congo giants DC Motema Pembe have sacked Belgian coach Nasreddine Nabi, just five days ahead of their Confederation Cup play-off game with Simba of Tanzania.
Officials from the club announced the sacking just as Nabi was about to join the squad in the eastern DR Congo town of Goma to prepare for the match in Dar es Saalam.
The second leg will be played in two weeks in Kinshasa, and the winner will qualify to the last eight of the competition.
The club's president Antoine Musanganya told reporters that they decided to end Nabi's contract because of the poor performance of the squad in the national league.
They also stated it was because he was unable to work with his two assistants, after they were involved in arguments that led the club losing two games in the last round of the league against two lower clubs.
One of those assistants, Andy Futila, has been appointed as the club's new coach.
The technical director of the country's football federation has also been appointed as technical director of DC Motema Pembe to supervise the new coaching staff.
Club officials also claimed that Nabi rejected his sacking, saying that they did not ask for his consent, but rather forced him to resign.
"I am stunned to be pushed to stop coaching DC Motema Pembe at a time where we should fight for a place in the last eight," Nabi said.
"My aim was to lead the club to the final of the Confederation Cup, but club officials did not share my vision.
"Since I took over the club, I was living in miserable conditions and fans from the club's main opponents had been laughing at me that I was working in bad conditions.
"But I persisted as I was following my only aim of leading DC Motema Pembe to the final of Confederation Cup.
"I only wish my players [the] best for the careers and mainly wish them to fulfil my objective of leading them to the final."
Nabi also said he will consider reporting DC Motema Pembe to Fifa, should the club's management do not cover the payment of the remaining months on his contract.
It is the third time the Belgian has coached the club.