Power shifts to fans at Cowdenbeath
Last updated on .From the section Football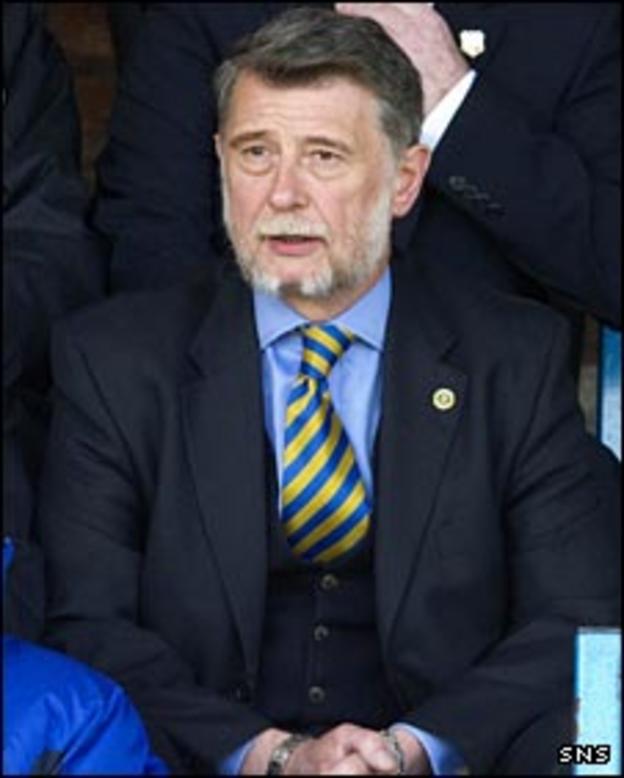 Cowdenbeath have confirmed that the owning Brewster family has relinquished day-to-day control of the Second Division club.
That now passes to the remaining board members, led by Donald Findlay QC.
Club chairman Findlay said: "The latest development moves us a step closer to fulfilling the supporters' ambitions for the football club to become a community-run venture."
Their first step was the appointment of Colin Cameron as player/manager.
Cowdenbeath say it was an amicable agreement that was another significant move towards securing the club's long-term future.
Alex, David and Scott Brewster will remain as majority shareholders but will step down as directors and hand over full control to the consortium led by Findlay along with local business people and supporters that was put in place by the supporters' action group and elected to the board last summer.
The Brewsters will retain ownership of the stock car company GMP Ltd and Central Park, the stadium it shares with the football club.
"We have signed a two-year security of tenure agreement, which will ensure that the football club will continue to operate from Central Park until at least the summer of 2013," Findlay told the club website.
"In the meantime, we will continue to work with the Brewsters on our joint efforts to build a new community stadium, which will be owned by the football club, in the town.
"Our vision will also see continued progress towards changing the ownership status of the club from privately owned to a Community Interest Company."
Findlay hoped that the board would be able to provide Cameron and assistant Lee Makel with sufficient funds to return the Blue Brazil to Division One after last season's relegation.
"The club made significant losses in recent years, but we came close to breaking even last season and expect to go one step better this time around," he added.