Zambians on on trial for match-fixing in Finland
Last updated on .From the section Football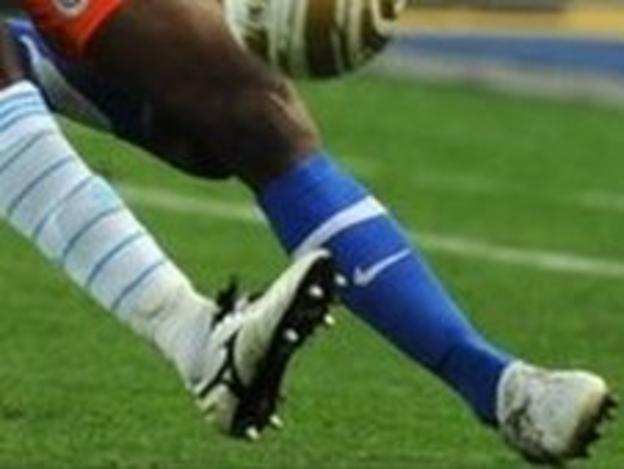 Seven Zambians have gone on trial in a match-fixing investigation that has rocked the Finnish football league.
The probe centres on Wilson Raj Perumal, a Singaporean who Fifa want to talk to about international friendlies involving Asian and African teams that they suspect of being fixed.
Prosecutors say Perumal offered the players bribes of 470,000 Euros ($682,000) to fix games in a scam that targeted Rovaniemi Palloseura (RoPs).
He is also accused of trying to bribe players at two other Finnish clubs.
Perumal, who was arrested in February and has previously tried to flee, was guarded by two police officers as the charges were read in the Lapland District Court.
Defence lawyer Pertti Poyko said the Singaporean has confessed to many of the charges, including some of the bribery allegations, while denying others.
World governing body Fifa believes Perumal organized an infamous match last September, sending a fake Togo team to Bahrain for a friendly that the hosts won 3-0.
Perumal also has links to fixing involving Zimbabwe national team matches played in the Far East.
The accused RoPs players - which also include two Georgians - were charged with accepting bribes of between 11,000-50,000 Euros each to affect the outcome of matches.
In cases where the desired result was not achieved, the money was paid back to Perumal, according to the charges.
Prosecutors have demanded a prison term of 28 months for Perumal and asked for between 19-23 months for six Zambian players, and suspended sentences for another Zambian and two Georgians.
In addition, RoPs, a club based in north Finland, is demanding 213,000 Euros in damages for loss of advertising revenue and salaries for new players signed to fill the squad.
The club, which fired the players after the investigation started, is also set to review its policy of bringing in players from Zambia, a trait that has been going for over 15 years.
"We will try to build the team first and foremost from Rovaniemi footballers, then players from Lapland and after that from the rest of Finland," said managing director Antti Hietakangas.
The Finnish league has been overshadowed by match-fixing scandals since it kicked off in May.
Three-time champion Tampere was suspended from the league after team officials acknowledged accepting 300,000 Euros from a Singaporean company but were unable to explain why.
On May 6, two Zambian brothers playing for AC Oulu were convicted of taking 50,000 Euros in bribes to play "below their normal level" in a 5-0 loss last year.
Finland is attractive to gamblers during the European summer because the continent's bigger leagues are in their off-season, Hietakangas said.
The trial is expected to continue for several weeks.