Stuart Pearce backs Jordan Henderson and Phil Jones moves
Last updated on .From the section Football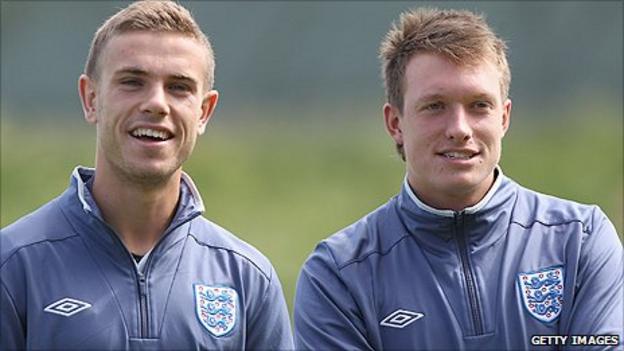 England Under-21 manager Stuart Pearce does not expect Jordan Henderson and Phil Jones to be distracted for the European Championships in Denmark.
The U21 European Championships start on Saturday, with England's first game on Sunday, against Spain.
"They're fantastically focused and a pleasure to work with," said Pearce.
Henderson and Jones did not travel with their England U21 team-mates to Denmark on Wednesday, as they finalised their impending transfers.
Pearce says he gave permission for the duo to delay joining up with his squad until Thursday, and said: "If I was in their position, I'd want a deal tied up before I went to a major championship.
"I wouldn't want to be worrying about it and I think that was their mentality as well."
However, Pearce insists that, although other players in the England set-up might be the subject of transfers, any moves will have to wait until the side's campaign in the tournament is finished.
"That's finished now," he said. "We're here as England players and those players will be fully focused on being here.
"I just deemed it was right and proper in regard to those two individuals before we actually met up, that they did actually go and resolve those problems.
"I'm not actually aware at this stage that there is anyone else on the verge of moving clubs."
Henderson's deal for the move to Anfield is believed to be worth £20m, and Jones is set to cost United £16m.
"I think the market's a little bit distorted financially, I really do," said Pearce. "But I'm not taking anything away from the real talent there.
"If I was a club manager and I had the finance to buy those two individuals, I would do it at the drop of a hat, A: for their ability, and B: for their mentality to want to get better and be level-headed kids.
"I think you pay a premium for that this day and age."
Former England international left-back Pearce also endorsed Tottenham manager Harry Redknapp's opinion that Jones could one day develop to become captain of the senior England team.
"I see bits and pieces of that in him, without a doubt. I think that's a wise statement from Harry," said Pearce.