Falkirk boss calls for SPL play-offs
By Brian McLauchlin
BBC Scotland
Last updated on .From the section Football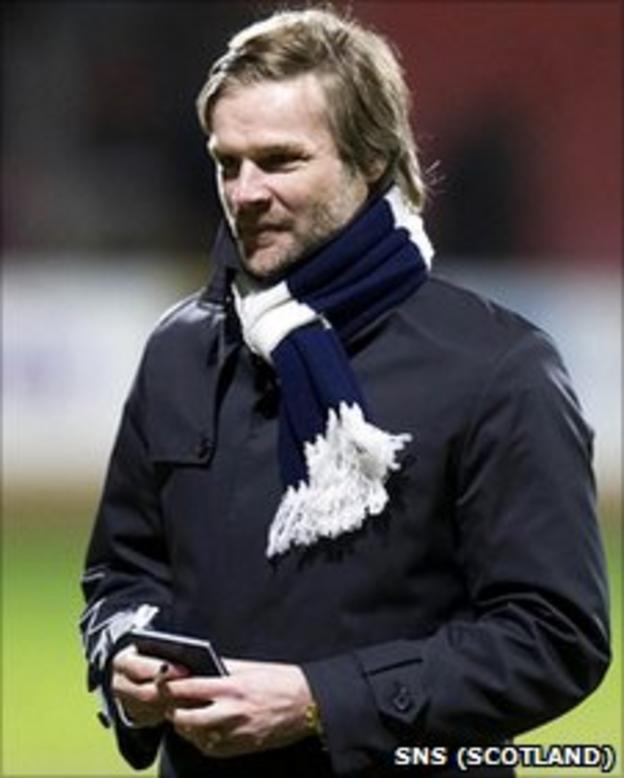 Falkirk manager Steven Pressley is calling for the Scottish Premier League to bring in play-offs for next season.
SPL clubs have been discussing reconstruction, with play-offs at the heart of proposals for change.
But negotiations have reached an impasse, with clubs unable to agree on an alternative to the 12-team set-up.
"If there is the status quo this summer with the 12-team SPL then there has to be an introduction of play-offs," Pressley told BBC Scotland.
"There has to be an opportunity to get another team up. The first reason is to generate interest in our division and secondly to generate finance."
Falkirk finished third in Division One last season and income at the club has fallen alarmingly since they dropped out of the top flight in 2010.
"My budgetary figure has dropped 75% [since the club were in the SPL]," he explained.
"I don't think people at the top end of the game and chairman outside the Scottish Football League just now have a real understanding of the harsh reality of it."
SPL chief executive Neil Doncaster is convinced a top 10 with play-offs and a second tier of 12 is the way forward and insists the majority of clubs share his view.
However, several clubs are opposed to reducing the number of teams in the top flight and the SPL requires an 11-1 majority to change the size of the league.
Many SPL chairmen have publically backed the return of play-offs but the proposals for reform have been presented as a complete package.