David Wotherspoon wants central Hibs role
Last updated on .From the section Football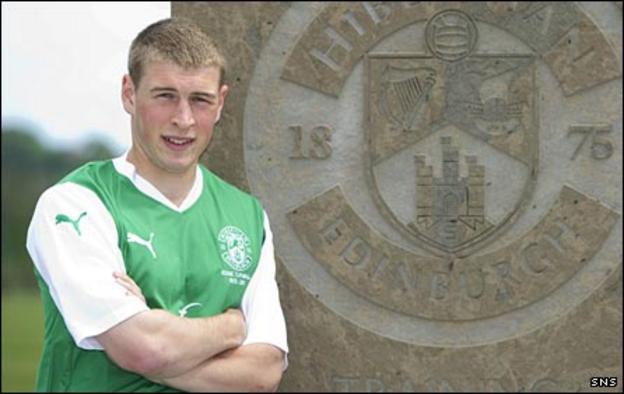 David Wotherspoon wants a central midfield role but says he is willing to play anywhere if it means starts under Hibernian manager Colin Calderwood.
"People have mentioned a few times that they see me in central midfield," the 21-year-old told his club website.
"When I was a young kid, that is where I played and then I started moving position quite a bit.
"So I'll just get back to pre-season and have a chat with the manager to see what he thinks."
Wotherspoon broke into the first-team two seasons ago at right-back but has also played on the wing and as an attacking midfielder.
But his hopes of a central role could be improved by the departure of John Rankin, Liam Miller and Kevin McBride as Calderwood looks to rebuild his misfiring squad.
"I've tried all different positions on the pitch and I just want to be involved in the play as much as possible," said the Scotland Under-21 international.
Wotherspoon is hopeful of better times for himself and the Edinburgh club, who finished 10th in the Scottish Premier League.
"I didn't think I had the greatest of seasons last year," he said.
"It was a very disappointing season for us, but hopefully it will get a lot better next season.
"It can affect your confidence sometimes.
"When you concede goals when you're on the pitch then you start to think it is your fault - why is this happening?
"You start to ask yourself questions. There was a game near the end of the season when I came on as a substitute and we were one goal up.
"Then, in the next 25-30 minutes or so, we lost two goals and lost the game.
"It hit my confidence - making it go right down - because I didn't know if it was my fault or not.
"But hopefully next season we are a lot more compact and concentrate better than before, so that we don't concede as many goals as we did last season."