Jordan Henderson plays down fears of burnout
Last updated on .From the section Football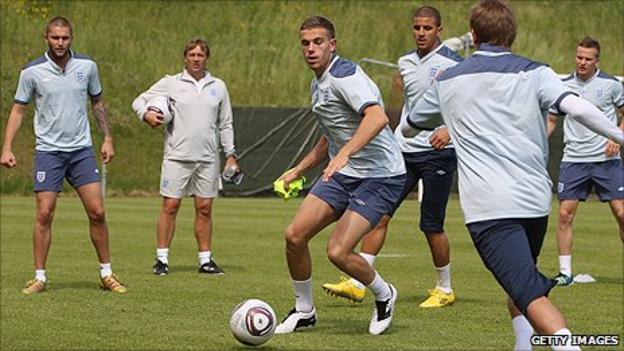 Liverpool's new signing Jordan Henderson has dismissed concerns over fatigue ahead of playing for England at the European Under-21 Championship.
The 20-year-old midfielder, who has moved to Anfield from Sunderland, will play for the under-21s after a season in which he made 40 Black Cats outings.
Arsenal's Jack Wilshere is not playing for England after fears of burnout.
"I know there are managers and players worried about burnout and playing too much, but I feel fine," said Henderson.
"Yes I've played a lot, but I've still got lots to give, still got energy. We are young and want to play football and can achieve something special for our country."
Wilshere decided to give the tournament in Denmark a miss as he felt he was "not in the best condition" to take part after playing 48 games for his club.
Liverpool striker Andy Carroll is also not in under-21 manager Stuart Pearce's squad having struggled with injury towards the end of the past campaign.
But, with Henderson set to play in England's opening game against Spain on Sunday, he is eager to gain experience and help his cause of building on the one cap he earned for the senior side against France in November 2010.
"At under-21 level, we feel there is a process whereby you can get passed through the ranks," added Henderson. "If you do well, [England manager] Fabio Capello will notice - or Stuart Pearce will tell him.
"He goes to a lot of the games to watch us and that is important to all the players who play in the under-21s."