Birmingham seek managerial replacement for Alex McLeish
Last updated on .From the section Football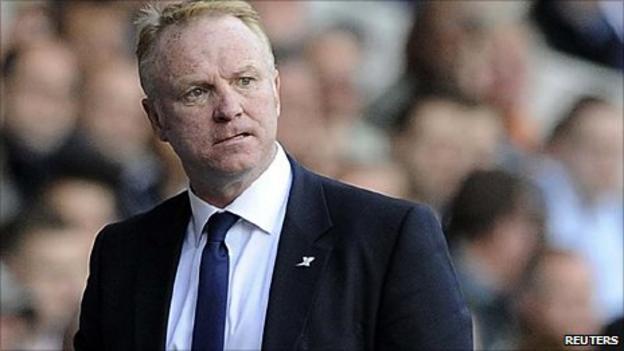 Birmingham have begun the process of looking for a new manager after appearing to accept that Alex McLeish will leave St Andrew's.
The club refused to accept McLeish's resignation on Monday, but acting chairman Peter Pannu is looking ahead.
He said: "I am discussing the situation with [owner] Carson Yeung. There are at least six [candidates] on the radar.
Aston Villa have been in contact about McLeish but it is believed Birmingham want up to £5.4m in compensation.
Names linked with replacing McLeish at St Andrew's include former Newcastle boss Chris Hughton and ex-West Brom manager Roberto di Matteo.
On Monday, Villa e-mailed Pannu with a view to assessing McLeish's availability.
BBC Radio 5 live's Midlands football reporter Pat Murphy says Pannu insisted McLeish was not available for talks.
"Mr Pannu's response [to Villa's enquiry] was concise: 'It will cost you as he's still our manager as far as we are concerned'," Murphy said.
Pannu met with legal representatives on Monday and there has been a suggestion that Birmingham will try to place McLeish on gardening leave.
The former Rangers manager has two-and-a-quarter years remaining on the extended contract he signed in 2010, having arrived at St Andrew's in November 2007.
But it is understood that McLeish - currently on holiday in Corsica - is pursuing a case for constructive dismissal against Birmingham.
Pannu said: "I got an e-mail from Aston Villa, finally replying to all of our queries.
"As expected, their legal department said 'now Alex McLeish is a free agent having resigned, we're free to speak to him'.
"Within the first year [of his new contract] he, or the club who sign him, have to compensate us at £5.4m.
"The first year expires on 30 June. The second year starts 1 July, when the compensation fee is £3m.
"The urgency of the whole thing, with this e-mail from Aston Villa, shows they can't even wait 17 days when the compensation is lower. It shows what this is all about.
"Because of this, what option is left to Alex McLeish and his advisers? To make allegations against Carson Yeung, against the board, for interference or whatever excuse to show constructive dismissal.
"I'll be seeking an injunction preventing Villa from hiring him. I'll be reporting what's happened to the Premier League."
Villa have not made an official comment.
But some sections of Villa supporters have made their feelings clear, with McLeish unlikely to receive a warm welcome at Villa Park if he were to replace Gerard Houllier at the helm.
"I would fear for the atmosphere and attendances at Villa Park if Alex McLeish is appointed manager," said Jonathan Fear, editor of the Vital Villa fans' website.
"I've got friends who are adamant they will return their season tickets if McLeish is appointed.
"He is a tough bloke but no matter how thick-skinned you are, it will be a tough sell for him to win over the Villa fans."