Cambridge United striker Danny Wright moves to Wrexham
Last updated on .From the section Football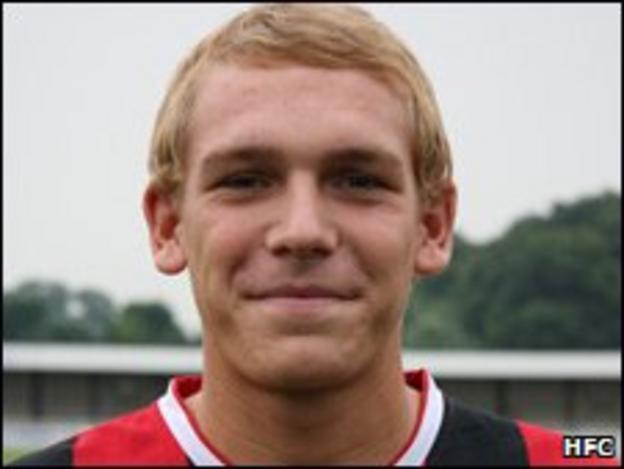 Wrexham have made their third signing in under a week with striker Danny Wright joining from their Blue Square Bet rivals Cambridge United.
Wright, 6ft 2in, has signed for an undisclosed fee.
Saunders said: "With his height, it certainly gives us another dimension and along with the existing forwards, we will have good competition."
The Norwich-born forward made 45 Cambridge appearances last season, scoring 10 goals, but leaves as the U's deal with a tight budget.
Cambridge managing director Jez George said: "This was purely a financial decision as Danny was one of the higher earners and had two years remaining on a three year contract.
"It's been well documented that we have to operate with greater financial restrictions moving forward and, to that end, we have imposed an individual wage ceiling.
"With Danny significantly over this figure, we had no option but to circulate his name to other clubs.
This is a good deal for all parties concerned, resolves a difficult situation and we wish Danny all the best for the future.
"I have said all along that we will tackle the task of reducing the wage bill as amicably and honestly as possible and this has certainly been the case throughout these negotiations.
"At the same time, players now joining the club are on deals that are more realistic and fit an affordable wage structure for the club.
"Whilst it is a blow to lose our top goal-scorer, financial security is our paramount consideration and decisions will always be made for the best long-term interest of the club."
Saunders' off-season forays into the transfer market have been conducted against Wrexham's on-going ownership issues.
But he was delighted to have gained Wright's services.
He said: "This is another piece in the jigsaw, as we look to reinforce our strike force for next year.
"His record with Histon was a good one and he's not been far below that in a Cambridge side that didn't have the best of seasons."