Barcelona insist value of Cesc Fabregas has gone down
Last updated on .From the section Football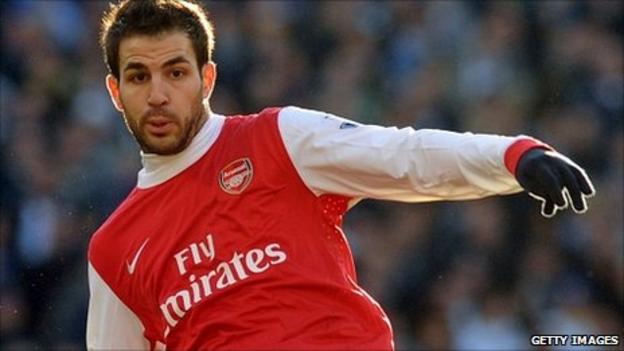 Barcelona president Sandro Rosell believes that the value of Arsenal skipper Cesc Fabregas has gone down since last summer.
The Catalan club failed to sign the 24-year-old Spain midfielder last year.
"If last summer we offered 40m euros (£35.1m) for Cesc, since then there has been wear and tear, now he's worth less," said Rosell.
"I don't know what will happen, but in the case that we were interested, we won't go mad and pay over the top."
Fabregas has been at the Gunners since 2003 but was pictured wearing a Barcelona shirt last summer as he celebrated Spain's victory at the World Cup in South Africa with his international team-mates.
"I don't think he will go to another Spanish club," added Rosell. "Cesc is of Barca, and if I were the president of another club I wouldn't sign a player who holds dear the colours of another team.
"What is the limit for signing him? We'll need to see. First we need to know what his salary is and what are his conditions."
Fabregas, a former Barcelona trainee, recently stated that he was happy at Arsenal.
"You can never say never in this life as so many things happen that you can never predict," said Fabregas, who has not won a domestic trophy since the FA Cup in 2005.
"I am very happy where I am. Anything else would be speculation that is untrue."
But he recently spoke about his desire to win trophies, adding: "Barca is the best team in the world and going there guarantees titles."
Barcelona have been strongly linked with Villarreal's Giuseppe Rossi and Udinese's Alexis Sanchez as they look to strengthen their squad over the close season.
The Champions League holders recently stated they had a summer budget of 45m euros, but Rosell added that the club would be prepared to use funds allocated for 2012 to secure their targets.
Meanwhile, Rosell criticised the actions of arch rivals Real Madrid last season, accusing their manager Jose Mourinho of making unfounded allegations about the Catalan club.
Tensions were high last season as the two clubs met four times in the space of 18 days, in the league, the final of the Copa del Rey and over two legs in a Champions League semi-final encounter.
Mourinho caused controversy after the first leg of their semi-final meeting, claiming Barca had yet to win a "clean" Champions League title under current manager Pep Guardiola.
"Comments by the protagonists have always served to enrich footballing debate," added Rosell. "But this season a Real Madrid employee, their coach, went beyond all the limits of necessary sporting rivalry.
"He even went as far as to say that our coach should feel ashamed of some of our victories. The press conference given by the Real Madrid coach after the first leg of the Champions League semi-finals at the Bernabeu would certainly have made any sportsperson feel ashamed.
"He accused our club of having won titles thanks to some kind of national and international conspiracy, implicating in this conspiracy the good name of Unicef and the football authorities."
Mourinho was given a five-match touchline ban by Uefa after the first leg, during which he was sent to the stands following comments directed towards the referee.
"The rivalry will continue next season, but we cannot allow the limits of fair play to be passed again," added Rosell.
"If the limits of fair play are passed once again, we shall be obliged to end our institutional relations, something we have absolutely no desire to do. We do not want to do that, but we are not afraid of doing it if we have to."