Premier League fixtures: West Brom first up for Man Utd
Last updated on .From the section Football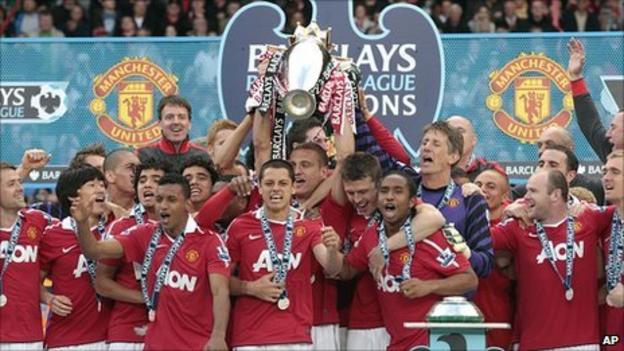 Manchester United will start the defence of their Premier League title with a trip to West Bromwich Albion on Saturday, 13 August.
Arsenal begin with a match at Newcastle, while Chelsea, last season's runners-up, travel to Stoke and Liverpool host Sunderland.
Swansea's first Premier League match is at Manchester City, while QPR open with a home clash against Bolton.
Norwich, back in the top flight after six years, travel to Wigan.
Elsewhere on the opening day, Tottenham and Everton meet at White Hart Lane, Fulham and Aston Villa face each other at Craven Cottage, while Blackburn host Wolves.
After facing West Brom, Manchester United play home games against Tottenham and Arsenal.
Of the sides that finished in the top four last season, Arsenal's is perhaps the toughest start.
Arsene Wenger's men follow up their opener at St James' Park with a home game against Liverpool before a trip to Old Trafford.
The game between Liverpool and Sunderland means Reds midfielder Jordan Henderson could get an immediate run-out against the team he signed from earlier this month in a £20m deal.
On 17 September, Manchester United host Chelsea, with other big games coming thick and fast the following month.
United visit Liverpool on 15 October, Manchester City travel to Old Trafford on 22 October and Chelsea host Arsenal on 29 October.
Neil Warnock, boss of last season's Championship winners QPR, predicted "a very close and very exciting" campaign.
"It doesn't matter who you play, the Premier League is where we all want to be. It's just fabulous to be involved," he said.
Swansea chairman Huw Jenkins emphasised the Premier League season was a marathon, not a sprint.
Jenkins said: "Everyone talks about a good start but it's a long season and you've got to be consistent."
Norwich manager Paul Lambert admitted the reality of what the Norfolk club had achieved was driven home by Friday's announcement.
"You look at back-to-back away games at Manchester United and Liverpool in October and that just shows the level we've worked hard to get to," said Lambert.
"We have earned the right to be here - it is a great challenge and exciting times for the club and the fans.
Meanwhile, Sunderland boss Steve Bruce said he was "relishing" the visit to Anfield on the opening day of the season.
"Anfield is always a tough place to go, but we have acquitted ourselves well against the big boys in the past and going there is a test I will relish," saud Bruce.
"Then it doesn't get much bigger than a derby game on the first home date of the season [the Black Cats play Newcastle on 20 August]."
You can read all the Premier League fixtures here, or fixtures for each English club here.
SELECTED NEW SEASON FIXTURES
Opening weekend - Saturday, 13 August
Blackburn v Wolves
Fulham v Aston Villa
Liverpool v Sunderland
Manchester City v Swansea
Newcastle v Arsenal
QPR v Bolton
Stoke v Chelsea
Tottenham v Everton
West Bromwich Albion v Manchester United
Wigan v Norwich
Saturday, 20 August
Arsenal v Liverpool
Aston Villa v Blackburn
Bolton v Manchester City
Chelsea v West Bromwich Albion
Everton v QPR
Manchester United v Tottenham
Norwich v Stoke
Sunderland v Newcastle
Swansea v Wigan
Wolves v Fulham
Saturday, 27 August
Aston Villa v Wolves
Blackburn v Everton
Chelsea v Norwich
Liverpool v Bolton
Manchester United v Arsenal
Newcastle v Fulham
Swansea v Sunderland
Tottenham v Manchester City
West Bromwich Albion v Stoke
Wigan v QPR
All fixtures and kick-off times are subject to change. The BBC is not responsible for any changes that may be made.
Copyright © and Database Copyright 2011 Football DataCo Ltd, The Football Association Premier League Ltd / The Football League Ltd / The Scottish Premier League Ltd / The Scottish Football League. All rights reserved. No part of this publication may be reproduced, stored in a retrieval system or transmitted in any way or by any means, (including photocopying, recording or storing it in any medium by electronic means), without the written permission of the copyright/database copyright owner. Applications for written permission should be addressed c/o Football DataCo Ltd, 30 Gloucester Place, London W1U 8PL.