Swansea City start away at Manchester City next season
Last updated on .From the section Football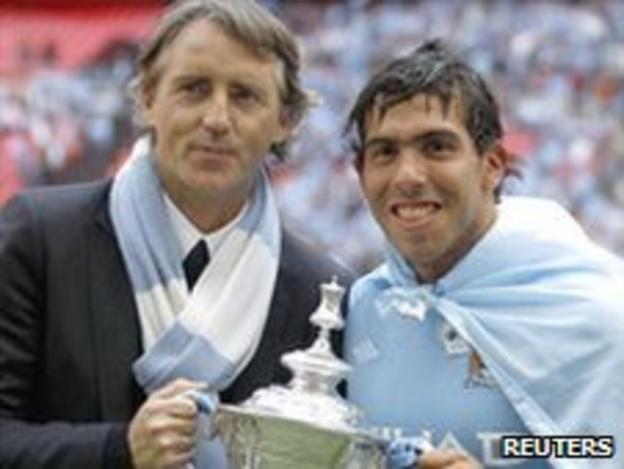 Swansea City will start life in the Premier League next season with a mouth-watering trip to Manchester City.
After that 13 August start, Swansea's first game at the Liberty Stadium the following Saturday sees former manager Roberto Martinez bring his Wigan side.
Other highlights see Swansea play at Arsenal on 10 September, while Brendan Rodgers' men go to Chelsea on the 24th.
Champions Manchester United come to the Liberty on 19 November, with the return at Old Trafford scheduled for 5 May.
The Christmas holiday period will see Swansea face fellow promoted side Queen's Park Rangers at home on Boxing Day, with another Liberty Stadium clash on New Year's Eve against Tottenham Hotspur.
A hectic few days will be completed with a trip to Aston Villa on Monday, 2 January.
The final game of the season is at home against Liverpool on Sunday, 13 May, while Swansea will have previously faced Kenny Dalglish's Reds at Anfield on 5 November.
It has been 28 years since Swansea played away at Manchester City, although that was at their old Maine Road ground rather than Eastlands, with Swansea losing 2-1 on 8 October 1983.
Swansea chairman Huw Jenkins says they must prove they belong in the Premier League.
"We are looking forward to it... the main thing is to be competitive," Jenkins said.
"Everyone talks about a good start but it's a long season and you've got to be consistent.
"The aim is to keep the club moving forward and luckily we've got an opportunity to do that."
A leading bookmakers has given Swansea odds of 5000/1 to win the Premier League, while the Welsh side are favourites to be relegated at 4/9.
All the match dates are provisional at this stage and are subject to change.
SWANSEA CITY FIXTURES 2011/12
Sat Aug 13 - Manchester City A
Sat Aug 20 - Wigan Athletic H
Sat Aug 27 - Sunderland H
Sat Sep 10 - Arsenal A
Sat Sep 17 - West Bromwich Albion H
Wed Sep 21 - Carling Cup 3
Sat Sep 24 - Chelsea A
Sat Oct 1 - Stoke City H
Sat Oct 15 - Norwich City A
Sat Oct 22 - Wolves A
Wed Oct 26 - Carling Cup 4
Sat Oct 29 - Bolton Wanderers H
Sat Nov 5 - Liverpool A
Sat Nov 19 - Manchester United H
Sat Nov 26 - Aston Villa H
Wed Nov 30 - Carling Cup 5
Sat Dec 3 - Blackburn Rovers A
Sat Dec 10 - Fulham H
Sat Dec 17 - Newcastle United A
Wed Dec 21 - Everton A
Mon Dec 26 - Queens Park Rangers H
Sat Dec 31 - Tottenham Hotspur H
Mon Jan 2 - Aston Villa A
Sat Jan 7 - FA Cup 3
Wed Jan 11 - Carling Cup semi-final (1)
Sat Jan 14 - Arsenal H
Sat Jan 21 - Sunderland A
Wed Jan 25 - Carling Cup semi-final (2)
Sat Jan 28 - FA Cup 4
Tue Jan 31 - Chelsea H
Sat Feb 4 - West Bromwich Albion A
Sat Feb 11 - Norwich City H
Sat Feb 18 - FA Cup 5
Sat Feb 25 - Stoke City A
Sun Feb 26 - Carling Cup Final
Sat Mar 3 - Wigan Athletic A
Sat Mar 10 - Manchester City H
Sat Mar 17 - Fulham A (FA Cup 6)
Sat Mar 24 - Everton H
Sat Mar 31 - Tottenham Hotspur A
Sat Apr 7 - Newcastle United H
Mon Apr 9 - Queens Park Rangers A
Sat Apr 14 - Blackburn Rovers H (*FA Cup semi-final date)
Sat Apr 21 - Bolton Wanderers A
Sat Apr 28 - Wolves H
Sat May 5 - Manchester United A (*FA Cup final date)
Sun May 13 - Liverpool H
*All fixtures are subject to change