Old Firm welcome government's sectarian law proposals
Last updated on .From the section Football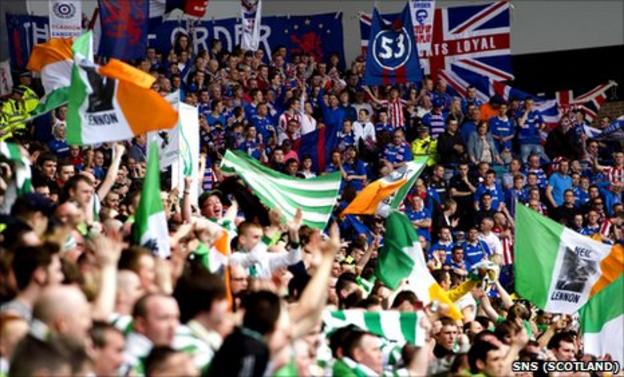 Celtic and Rangers have came out in support of the Scottish Government's proposed legislation for tackling sectarianism related to football.
The bill aims to stamp out abusive behaviour from football fans whether they are watching matches in a stadium, in the pub or commenting online.
Rangers said: "There is no place in football for sectarian behaviour."
A Celtic statement said: "The type of behaviour covered by this legislation has no place in Scottish society."
Last season's Old Firm matches were marred by trouble both on and off the park, prompting the Scottish Government to set-up a Joint Action Group to try and tackle the sectarian problems which blight the Scottish game.
"Celtic Football Club welcomes the introduction of this legislation," the Parkhead-based club said on their website.
"The issues it seeks to address are problems for society as a whole and not just football."
Rangers joined their Glasgow rivals in welcoming the new proposals.
"We are encouraged to see the Scottish Government recognises in this bill that offensive behaviour or singing by fans are issues that affect many clubs and look forward to seeing legislation enforced more evenly and consistently than it has been in the past," Rangers' statement read.
"We have repeatedly made our position abundantly clear - there is no place in football for sectarian, racist or offensive behaviour and support legislation to deal with these matters as effectively as possible."
The Scottish Football Association and the Scottish Premier League also commended the proposed anti-sectarian measures.
"The Scottish FA welcomes the new bill as tangible evidence of the success of the Joint Action Group," said SFA chief executive Stewart Regan.
"In particular, we are pleased to see that it covers sectarian and other forms of unacceptable chanting and threatening behaviour.
"Football is this country's national sport and we all have a responsibility to ensure that entertainment replaces aggravation and that a family atmosphere is generated inside our grounds instead of a hostile one."
SPL chief executive Neil Doncaster added: "It is clear that offensive and threatening behaviour has no place in Scottish football and the SPL will continue to work with all members of the Joint Action Group to address this issue.
"On the day the fixtures for the new Clydesdale Bank Premier League season are announced, we would hope that Scottish football is in the headlines for the right reasons this season."