Kevin Nolan signing 'shows West Ham mean business'
By Phil McNulty, chief football writer
BBC Sport
Last updated on .From the section Football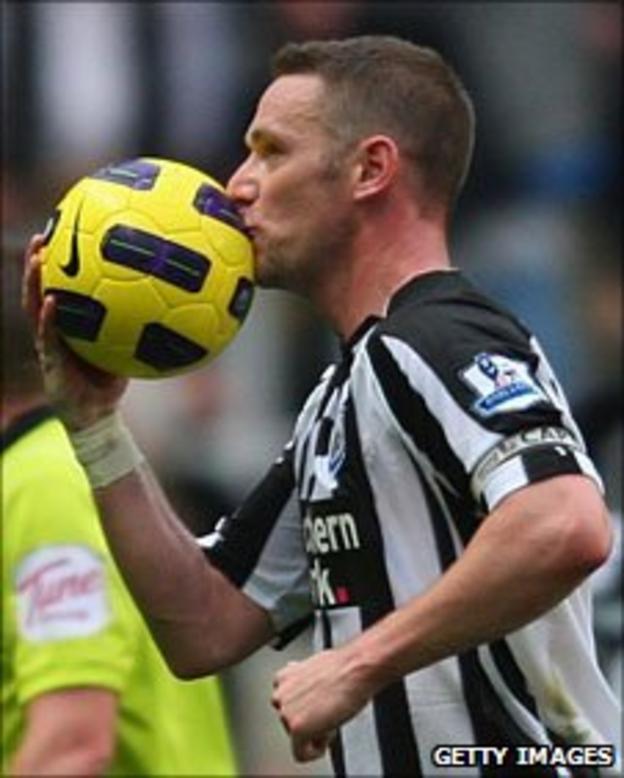 West Ham United co-owner David Gold has labelled the signing of Kevin Nolan as "the coup of the transfer window" - but admits the odds are firmly stacked against England midfield man Scott Parker staying at Upton Park.
Former Newcastle United captain Nolan, 28, rejoined his former boss Sam Allardyce on Thursday after signing a five-year contract in a £5m switch from Tyneside.
And Gold, who expects further high-profile signings this summer, told BBC Sport: "With the appointment of Sam and now the signing of Kevin Nolan we have put a stake in the sand and shown our commitment to the fans.
"It shows we mean business at West Ham United.
"Kevin Nolan has put a real statement of faith in the club and our new manager and we have made a statement to our supporters that we intend to get straight back up into the Premier League. We think this signing is the coup of the transfer window."
The future of Parker will be on the agenda when Allardyce returns from holiday to officially take charge on Monday with Tottenham boss Harry Redknapp hoping to lure him to White Hart Lane.
Gold said: "I've not given up hope but I am also a realist and he is an England international. Not many of those play in the Championship. There will be conversations and it is a matter that is now in the hands of Sam and Scotty.
"If I'm being honest as a fan I would say it is 50-50 he will stay but as a realistic chairman of the football club I would say it is 80-20 against Scott staying, at best."
England goalkeeper Robert Green is also likely to follow Parker out of the door - but Gold believes the club has been rejuvenated swiftly by the arrival of Allardyce and his swoop for Nolan.
He said: "We were thrilled and relieved when we were finally able to name Sam as our manager. We have appointed a Premier League manager and now we have signed a top class, proven Premier League player in Kevin Nolan.
"Kevin Nolan hasn't come to Upton Park to play in the Championship, he has come to help take West Ham back up into the Premier League.
"Talk is easy but you have got to back it up with action and we have done that. We have done this in a few short weeks and many clubs haven't done any business yet - and I'm confident we will pull off one or two more surprises before the window closes."