Tottenham can match Modric ambition - Harry Redknapp
Last updated on .From the section Football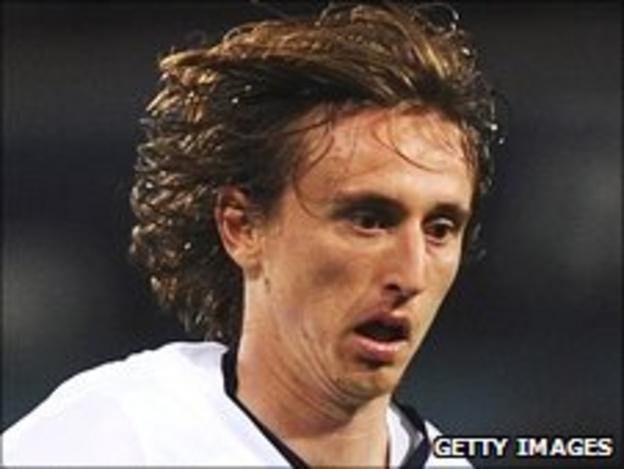 Tottenham Hotspur manager Harry Redknapp hopes he can persuade midfielder Luka Modric that he does not need to leave to realise his ambitions.
The 25-year-old appears eager to move to Chelsea, who have made a £22m bid.
Redknapp told Sportsweek on BBC Radio 5 live: "He sees the chance to win the league and play Champions League football, but we want that as well.
"We have to show him our ambition. If we can add one or two players, we can have another great season."
Spurs played in the Champions League for the first time last season but narrowly missed out on securing their place again for the forthcoming campaign, finishing fifth in the Premier League.
And the Croatian apparently considers playing in football's biggest club competition to be key to his progression - he told the Daily Mail he wants to leave Spurs but would like to stay in London.
"Chelsea are a big club with an ambitious owner," he said. "They have great players and they have ambitions to fight for the title and win the Champions League.
"I want to leave Tottenham as friends. I have enjoyed my time there, but now it is right for me to look at another club.
"I have an arrangement with the chairman. When I signed my new contract, he said that, if another club came to sign me, they would consider the offer."
Chairman Daniel Levy said Modric is not for sale "at any price" and Spurs are not prepared to sell him "to Chelsea or any other club".
"We made our stance on this issue abundantly clear in writing to Chelsea," Levy added. "They chose to ignore it then made the offer public."
Redknapp is desperate to keep the creative midfielder at White Hart Lane.
He commented: "Chelsea are not the only club that have been in for him. There are other top clubs as well but if Tottenham want to be a top club then we have to keep our top players and he is certainly a fantastic player. If we are looking to go anywhere we can't be selling Luka.
"We have to do something about it and keep him happy and keep him at this club.
"An unhappy player at your club - if his mind is not right he's not going to be playing well - is a massive problem. Hopefully we can speak with Luka.
"Any club would want Luka Modric. He could walk into any Premier League team.
"Daniel has said 'no, he has not got a price'. We definitely don't want to sell him. He is worth an awful lot of money. That first offer of £22m was laughable. This is a special player - as good a midfield player as there is anywhere - certainly in this country.
"Daniel is saying no and if he is saying no he really can't be seen to go back on that. He has made a very strong statement. We have to improve in the summer, not weaken, so I don't see Daniel backtracking on that at any price.
"Tottenham could be a great club for him to stay with for the next few years and that is what we are hoping for."
Levy said Spurs are "building a team for the future to consistently play at the highest level", and insisted that none of the club's key players would be sold this summer.
Modric, who arrived at Spurs from Dinamo Zagreb in 2008 in a £16.6m deal, has scored 12 times in 120 games for the London club.
He signed a new six-year deal at the club in 2010. But in an interview with Croatian newspaper Jutarnji List last month, he said: "If an offer comes which is good for Tottenham and for me also, then a transfer is possible."