Swans' Danny Graham backs new Cardiff boss Malky Mackay
Last updated on .From the section Football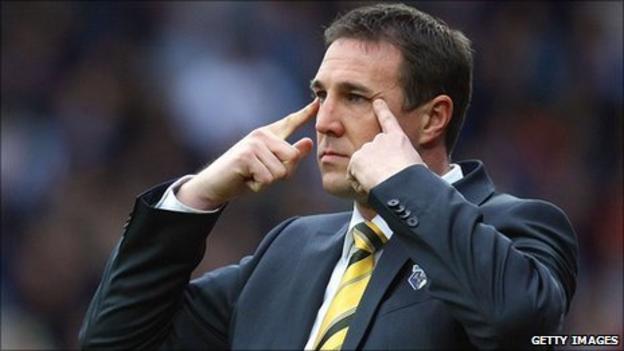 New Swansea City striker Danny Graham says that arch-rivals Cardiff City have secured a top manager in Malky Mackay.
But in a twist his Vicarage Road boss followed him to south Wales this week, as Mackay was unveiled as Dave Jones' successor at the Bluebirds.
"I think he'll do well wherever he goes, I know he's at Cardiff now and they're big rivals of us but I'm sure he'll do a good job," Graham said.
"He's brilliant to be honest, he's done everything for me and he's helped me come along.
"He's helped me improve as a player so I've got nothing but high praise for him.
"I know he's gone to Cardiff now but he's a good manager and I'm sure he'll do well there.
"He's a hands-on [manager] to be honest, he gets involved with the players.
"He's always on the training ground, he's always doing sessions and his man-management skills are brilliant."
Swansea's promotion via the Championship play-offs means their on-field league rivalry with neighbours Cardiff will be set aside for at least a season, although the cup competitions could yet pit Graham against his former Hornets mentor.
Graham, 25, completed his medical on Friday to rubber-stamp his four-year deal with Swansea, the same day as the fixtures for the new season were released.
First up for Swansea in the Premier League is a daunting trip to play billionaire-backed big boys Manchester City on 13 August.
Roberto Mancini's side last season finished third in the Premier League to secure a Champions League spot, as well as winning the FA Cup.
But Graham says that the Swansea players and supporters should be excited about a trip to Eastlands.
"Brilliant hey, back in the big time and no tougher test than being away to Man City," Graham said.
"But it's something to look forward to and I'm sure all the fans and all the players are looking forward to."
Swansea are the bookmakers' favourites to be relegated on their return to the top flight for the first time since 1983.
But Graham says that the passing football Swansea play under boss Brendan Rodgers - himself a former Watford man - will serve them well and was a key reason to choose them over other interested clubs.
"There was a bit [of interest] last September before the [transfer] window closed but nothing until after the play-off final, and that was the first time I spoke to Brendan after that," Graham added.
"After meeting him for 10-15 minutes he impressed me and that was the key reason for signing, to be honest.
"There was a bit of interest [from other clubs] but Swansea play the type of football I like.
"They're a passing team, they move the ball well... Swansea showed a big interest in me and I was delighted to sign."