Bangor boss Nev Powell wary of Jari Litmanen's class
Last updated on .From the section Football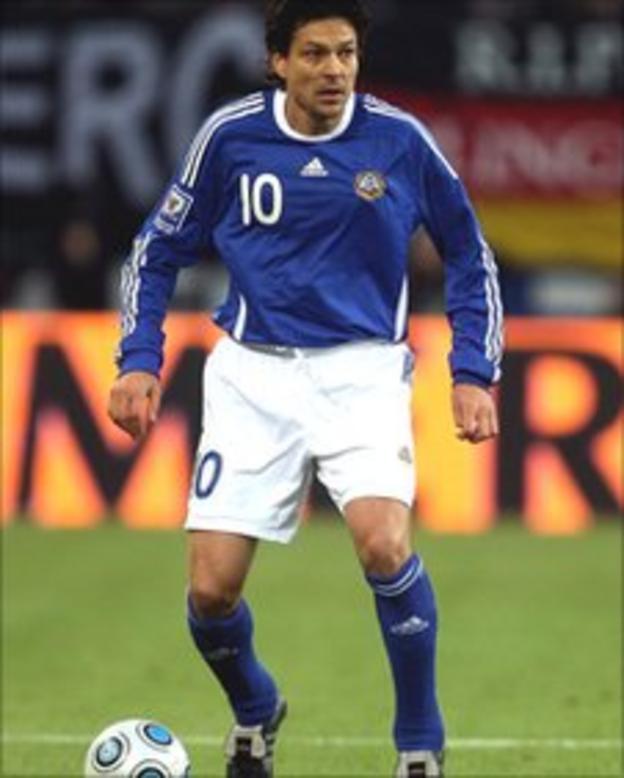 Bangor City manager Nev Powell says stopping Jari Litmanen will be his side's priority in their Champions League match against HJK Helsinki.
Former Liverpool and Barcelona star Litmanen joined the Finnish champions in April and Powell fears his class.
"We've got to work on getting men behind the ball in training and make sure they don't cut us open," he said.
"They've got the players like Litmanen to do that, but that's what you expect in this competition."
Monday's Champions League draw handed part-timers Bangor a third consecutive trip to Finland in European competition.
The Welsh Premier League champions faced FC Honka over the last two seasons, and caused a major upset against the professional outfit last season with a 3-2 aggregate victory in the second qualifying round of the Europa League.
July's games against HJK Helsinki, who are already well into their season, will be Bangor's first foray into the Champions League, and Powell believes his side are beginning to get a feel for European football.
"We're gradually getting better every year," said Powell, who this year guided Bangor to their first championship since 1995.
"Honka had a team full of Finnish internationals and were expected to turn up and win the game. But football's not like that.
"Fingers crossed, we might get a bit of luck on the night and we've just got to defend well.
"They are a better side than Honka. [Jari] Litmanen plays for them and they've got a couple of Brazilians so we're under no illusions it's going to be difficult.
"They play on a plastic pitch as well, which is a massive advantage for them."
Bangor were drawn to play away in the first leg on 13 July but have agreed to HJK Helsinki's request to switch the ties around.
And with Bangor's Farrar Road ground falling short of the necessary criteria to stage Champions League games, the home tie will be played at Rhyl's Belle Vue ground.
Keeping the tie alive before the trip to Finland is Powell's objective, and he hopes a noisy and intimidating atmosphere in Rhyl can help abridge the gulf in class on the pitch.
"We'll have a couple thousand Bangor fans squeezed into that ground and hopefully we'll give them a good game," he said.
"It's a nice pitch and a tight ground. Hopefully we can catch them a bit cold. They won't be expecting a full house."