What makes Andre Villas-Boas tick
Last updated on .From the section Football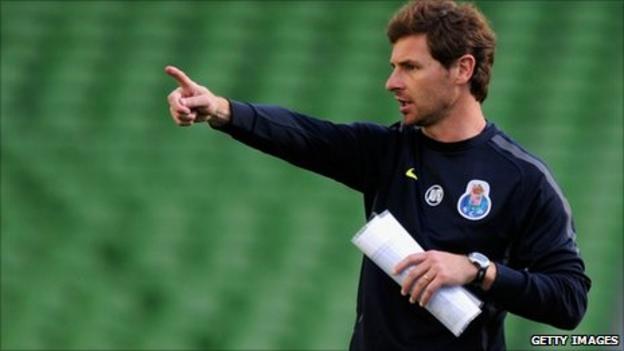 Andre Villas-Boas will have his hands full as he takes up the managerial reins at Chelsea.
In the boardroom, he will have to please the club's hire 'em and fire 'em billionaire owner Roman Abramovich. In the dressing room, a number of players - notably John Terry, Frank Lampard and Didier Drogba - are entering the twilight of their careers and will need replacing before too long.
Abramovich and many of the Chelsea players will know the 33-year-old Portuguese coach from his earlier stint at Stamford Bridge, when he worked under former boss Jose Mourinho. Villas-Boas provided, among other things, in-depth scouting reports on opposing teams that took as long as four days to prepare.
Those relationships will be very different now that Villas-Boas is the boss as he sets about restructuring an ageing squad while satisfying an owner that craves Champions League success. The London club have yet to win European football's premier competition, while the new boss has not experienced it as a manager.
That is a daunting agenda for any coach - as Mourinho, Avram Grant, Luis Felipe Scolari and Carlo Ancelotti have found to their cost - let alone one who will soon start just his third season as a top-flight manager.
Villas-Boas cut his managerial teeth at Portuguese side Academica de Coimbra. When he was appointed in October 2009, the club were bottom of the table and without a win. By the end of the season, Villas-Boas had led them to safety and a League Cup semi-final.
But Academica defender Markus Berger, a former player of Villas-Boas, is in no doubt that the ex-Porto boss will "do a great job" in English football at Chelsea.
"We were in a very difficult situation when Villas-Boas arrived but what we managed to achieve in just eight months was unbelievable," Berger told BBC Sport. "The work that he did and the ideas that he had I have never seen from any of the coaches I have worked under before or since."
Preparation is everything for Villas-Boas, whether it is on the training pitch or detailing how opposing teams play.
"Every training session was very specific in gearing us up for the next game," said Berger.
"We didn't train twice a day, there was just one session in the morning, but it was very intensive. He demanded 100% from the players and then a bit more. He wanted maximum concentration from us and we prepared each session with a lot of quality."
Even though Academica were struggling against relegation, Villas-Boas set his players the benchmark of emulating Barcelona's pass-and-move style rather than kicking long balls down the field as they battled to move away from the bottom of the table.
"He would often get us to train in very small spaces where you didn't have a lot of time on the ball," added the Austrian. "As a central defender, I was encouraged to pass the ball and he spoke with each and every player about the type of passes he wanted them to make."
Off the training pitch, Villas-Boas was equally methodical and provided his Academica squad with a 30-minute video session on the opposition team before every game.
"We knew everything about the opposition - how those players would pass the ball and which foot they would use to shoot," said Berger.
"He made everything very simple for the players, identifying strengths and weaknesses of the opposing team's defence, midfield and attack, as well as which opposition player might make the difference. He reads the game so well."
It is that attention to the small details that also struck the Scottish Football Association's director of football development Jim Fleeting, who has known Villas-Boas since the Portuguese coach came to the SFA's prestigious Largs coaching centre to study in 1994. In his time in Scotland, Villas-Boas has studied alongside people such as Rangers manager Ally McCoist and Cardiff's new boss Malky Mackay.
"Andre has gained all his Uefa qualifications with us as well as coming back to do the continuous professional development work that is required under Uefa regulations," said Fleeting. "He is very mature and intelligent, both as a student and as a coach. He came to us as a 17-year-old boy but is now very confident.
"What impressed me most was his attention to detail, be it his analysis of a team or a particular player. He was also very keen on the use of technology and I remember him using a Blackberry to provide a report when Scotland played Georgia."
Despite his youthfulness, Villas-Boas's innovative approach was quickly accepted by the Academica players.
"There was never any confrontation between him and the older players," added 26-year-old Berger. "He'd always try to help the players and told us if we ever had a problem to come and talk to us. That was important - everybody could speak to him.
"At Chelsea, he'll do a great job. He knows what he is talking about and has worked at big clubs and understands what is needed at them. He will have a lot of success.
"He emphasises creating a big spirit in the group so that everybody works together and everybody will push for the team. It is something in his nature. He has a great personality and you can feel that as a player. You want to work with him and do well for him."
Berger is still in contact with Villas-Boas. The Portuguese coach even organised tickets for the Austrian defender to watch Porto's Europa League match against Austria Vienna last season.
Fleeting concurs with Berger's view that Villas-Boas's personality is key to extracting the maximum from his players.
"He is very good at getting on with people and mixes easily," said Fleeting. "Whenever I speak to him, he is always happy to help and he is very respectful.
"All the credit is down to him. We are just so pleased at the success he has achieved."