Neville Southall opposes Wales involvement in Team GB
Last updated on .From the section Football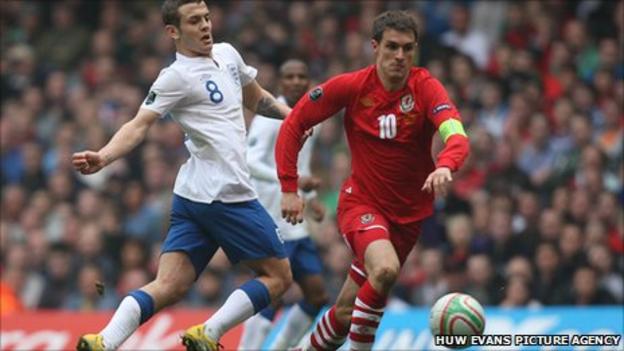 Wales legend Neville Southall fears for his country's football identity if a Great Britain side plays at the 2012 Olympic Games.
"I don't see the point. You will just lose the identity of all the teams," ex-goalkeeper Southall told BBC Wales.
The Welsh, Scottish and Northern Irish associations all oppose the plan.
A united team could see England's Jack Wilshere playing alongside Arsenal team-mate Aaron Ramsey of Wales.
Southall, Wales' most capped player with 92 appearances, said: "The whole point of going to the Olympics is that special moment when your flag goes up.
"What flag are they going to put up if they win it? The Union Jack? It's not my flag. My flag's a dragon.
"As a Welshman I'd rather play for Wales if I was in the Olympics. I would want to go and represent my country."
Southall also believes club managers will be reluctant to allow players to take part in a competition staged on the eve of the 2012/13 season.
"If I've got a player who is worth £10m, why would I want somebody kicking lumps out of him at the Olympics?" he said.
"I've heard David Beckham's name mentioned and people like that and I'm thinking 'that's professional'. The whole ethos [of the Olympics] is it's amateur."
Kevin Ratcliffe, who captained Wales, said: "To take part in the Olympics is a great thing.
"I don't think the clubs would be too happy - they are not too happy with them going away and playing friendlies for their country.
"But I think it would be a great honour for anybody to represent the British Isles. It's just like playing for the Lions [rugby union team].
"I would love to have done it though this is obviously a matter between the FAs."
The BOA announced on Tuesday: "The FA has consulted with its partner associations in Scotland, Wales and Northern Ireland in developing the player-selection criteria and timeline.
"A 'long list' of players will be drawn up by the managers of the men's and women's teams and they will each be asked to confirm their availability."
However, the Football Association of Wales (FAW), along with their counterparts in Scotland and Northern Ireland, reacted angrily to claims their players could take part in a united Great Britain football team.
The FAW has long held the belief that their involvement in any GB team would threaten Wales' independence within Fifa, world football's governing body.