Willie Miller becomes director of football at Aberdeen
Last updated on .From the section Football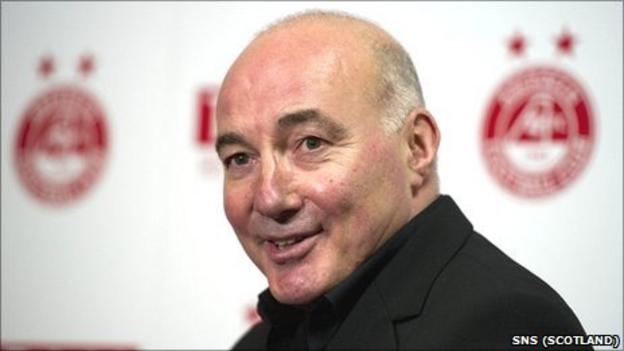 Aberdeen say they are following the Scottish Football Association's example by redefining Willie Miller's role at the Scottish Premier League club.
He will hand first-team duties, such as contracts, to recently appointed chief executive Duncan Fraser.
Now as director of football development, Miller will concentrate on finding new talent for the team.
Aberdeen's announcement came on the same day as the SFA appointed its own first performance director, Mark Wotte.
As part of the changes at Pittodrie, former Aberdeen midfielder Neil Simpson has been appointed to succeed the retiring head of youth academy Len Taylor.
And Miller will work closely with Simpson and Under-19 team coach Neil Cooper.
Miller told his club website: "In terms of the first team, Duncan Fraser will be working closely with Craig and Archie on all matters, including contracts.
"Football development has seen a renewed focus on the back of the Henry McLeish report and the SFA's new Academy Scotland initiative.
"I do feel the revised structure gives more clarity as to who is responsible for what and is mirrored by the content of the McLeish Report and the changes proposed by the SFA in terms of development.
"I will continue to work closely with Neil Cooper and our successful Under-19 set-up which has produced Chris Maguire, Michael Paton, Joe Shaughnessy, Clark Robertson, Peter Pawlett, Fraser Fyvie, Ryan Jack, Mitch Megginson and Nicky Low in recent times as first-team members.
"With the move to the new stadium and training facilities not that far away now, I intend to work closely with Neil to ensure our academy is fit for purpose and in the best position to take advantage of that move."
Miller said that Maguire, who is now a full Scotland international, had been the first product of a conveyor belt of talent designed to produce "a more technical type of player".
"Youth development has been a huge part of my role over the past seven years and, in that time, its significance to the future of this club going forward has increased year on year," added the director of football.
"When I returned to Pittodrie, my first task was to review the youth development operation and implement the changes necessary as the focus moved more and more into that area and that is something that can't happen overnight and takes a dedicated team to achieve.
"Len was my first appointment and recruited to head up and help me shape the future of our development programme. His contribution to our academy has been immense."